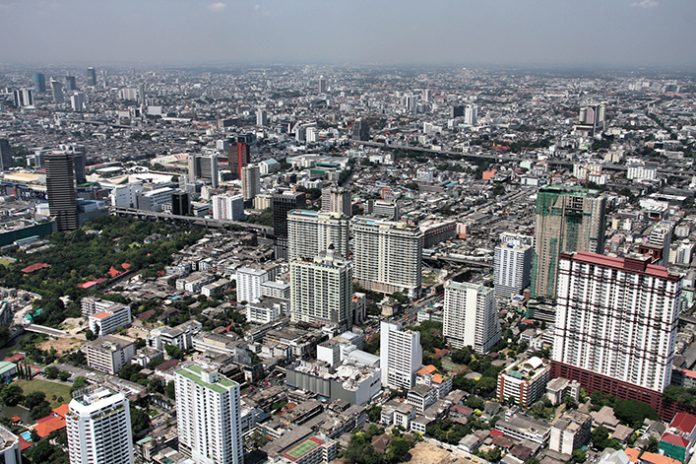 According to CBRE Thailand, developers are increasingly turning their attention to older buildings for redevelopment or renovation as a shortage of empty land plots for new developments takes its toll.
Managing Director of CBRE Thailand property consultants, Aliwassa Pathnadabutr was quoted as saying, "In some locations in the central business district areas, there are no longer plots of land available for development. Developers are now looking to buy old buildings in prime areas and demolish them for condo development"
According to CBRE research land prices hit a record high last year, reaching 1.45 million baht per square wah in the Silom and Sathorn area, 1.75 million baht per square wah in the Sukhumvit Road area, and 1.9 million baht per square wah in the Ploenchit, Lumphini, and Chitlom districts.
Aliwassa Pathnadabutr was also quoted as saying, "Prime land prices will continue to climb into 2017 and new land price records will be set, although land price inflation will be more subdued in midtown and suburban areas"
An example of how prices are rising can be seen in the fight for a plot on wireless road near to the British embassy. Heavyweights Central Group and TCC Group are both bidding against each other for the property. Central Group is tipped to win the contest based on a higher price bid, and if successful will develop a mixed-use property on the site.
Higher land prices have affected condo prices in the capital with an average of 10.9 % price appreciation per year over the last 6 years. Lumphini district remains the most expensive with average condo prices reaching 250,363 baht per square meter. Sukhumvit road was next at 239,946 per square meter and Silom just behind at 220,395 per square meter. The average for all the central districts combined stood at 247,613 baht per square meter.
Turning old buildings into new developments isn't a new trend by any means. The Sukhumvit Plus condo at Phra Kanong, built more than 12 years ago, was based on a site that was previously occupied by a department store.
Price is midtown and suburban areas were more muted as there is an outlook for supply growth. There are some 462,692 units in these areas completed with another 111,700 units to be completed in the future. This compares with a tighter market in central business districts where 122,403 units have been completed and 25,000 more are to be completed in the future.
Aliwassa Pathnadabutr was further quoted as saying, "Units in midtown and suburban areas are in a middle to lower end segment which mostly had trouble in getting mortgage loans. These un-transferable units returned to the market"