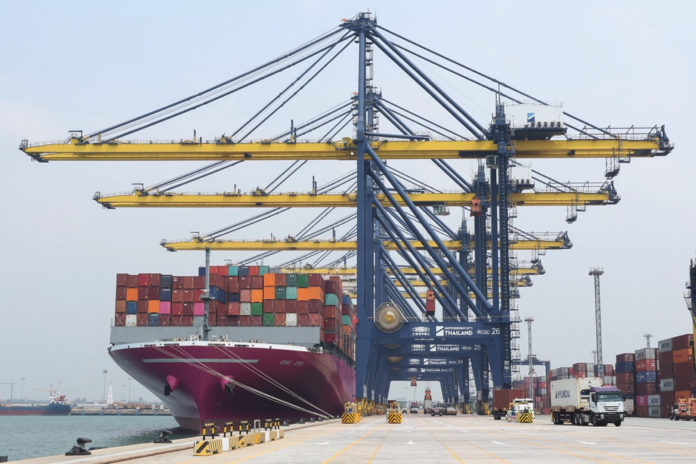 https://www.thailand4.com/en/LYAV
Hutchison Ports Thailand ("HPT"), a leading port operator in Thailand, is contributing to Hutchison Ports Group mission to achieve an 11% reduction in CO2 emissions by 2030 by adding more electrically operated autonomous trucks, remote control super post panamax ship to shore cranes, and remote-control rubber tyred yard cranes at Hutchison Ports Thailand's Terminal D.
While launching local environmental initiatives to ensure sustainable development, HPT continues to provide flexibility, connectivity, and the latest available technology through its ability to handle vessels of various sizes – all critical for the success of the eastern economic corridor (EEC), and enhanced terminal operations to build Thailand into the logistics and transportation hub of the ASEAN region.
In 2021, Thailand's import value increased by 29.8% with a total value of USD 267.6 billion, while exports saw an increase of 17.1% with a total value of USD 271.1 billion.
HPT's initiatives are designed to ensure the sustainable development of the company and Thailand by focusing on three pillars:
Our Environment: To create a sustainable future, HPT has committed to reducing greenhouse gas emissions and waste generated in Laem Chabang Port operations, following Hutchison Ports Group's aims to reduce diesel consumption per TEU by 1% per year until 2023, with an 11% reduction in CO2 emissions per TEU by 2030 To accomplish this, HPT is adopting autonomous electric trucks, using remote control electric ship to share cranes, 5G for remote control equipment, introducing remote control electric yard cranes, and switching to e-gatepass/gate automation. Going digital and paperless, which includes an online assistant and booking service, is another commitment that HPT has made, as is going green through upcycling.
Our People: Initiatives formed as part of the people pillar include the roll-out of a mental health and well-being awareness programme to support team members through difficult times. Improving the quality of life in the local community is a priority for the company and as a result, HPT has been engaging with the surrounding community, initiating a variety of local projects with schools, a university and a hospital.
Our Business: To strengthen its governance HPT will increase supplier evaluation to pre-screen and assess potential contractors against a set of sustainability criteria. This is to ensure greater transparency across all areas of the business to ensure suppliers and customers meet the standards of HPT's sustainability strategy.
"Sustainable development and business expansion must go hand in hand. It is important that our various environmental initiatives add value to our business while also lowering our carbon footprint. Sustainable development necessitates a strong commitment from our team as it requires many changes in the way we work, and I am pleased with the progress we have made thus far. Our Group has set short and medium term environmental goals for all of our ports and I am confident that we can achieve these goals while working towards a longer term "net zero" target." said Stephen Ashworth, Managing Director of Thailand and South East Asia, Hutchison Ports
HPT's Terminal D is now entering the remaining phases of construction which on completion will have a handling capacity of 3.5 million TEU. Terminal D will eventually be equipped with 17 super post panamax ship to shore cranes and 43 rubber tyred yard cranes, all remote control and electrically operated. The Terminal is the world's first dual-traffic container terminal simultaneously operating with autonomous and conventional trucks.
Laem Chabang Port is Thailand's principal port and is the main gateway for the country's imports and exports. In 2021, Laem Chabang handled a total of 8.5 million TEU. This was an increase of 0.9 million TEU handled from 2020. HPT's market share at Laem Chabang Port was approximately 40%. Over1,000 container vessel calls were made at HPT's various terminals in 2021, including some of the largest ocean-going container vessels currently in operation.
Source: Spark Communications