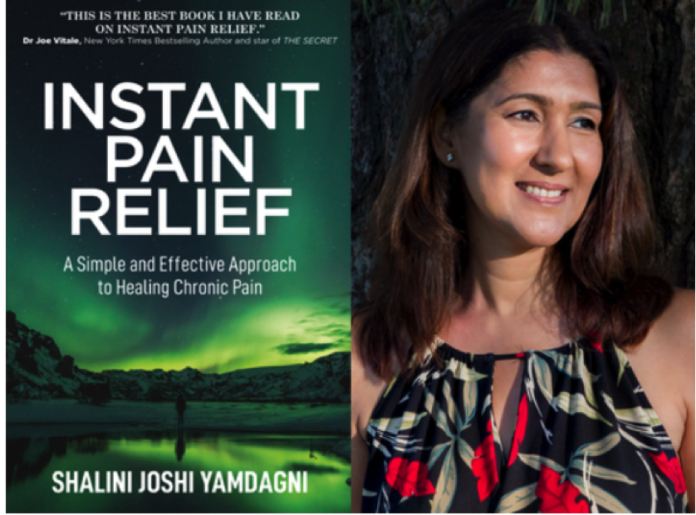 BANGKOK, THAILAND, MARCH 9, 2022
International pain relief expert Shalini Joshi Yamdagni announces the release of her latest book, Instant Pain Relief: A Simple and Effective Approach to Healing Chronic Pain.
Her new book helps people feeling stuck in chronic pain learn a simple powerful self-help tool,  EFT or  Emotional Freedom Techniques to not only manage their pain but heal it permanently.
Shalini discovered EFT in 2007 when she was confined to bed rest indefinitely due to a chronic illness called Costochondritis. After discovering  EFT online, Shalini spent extensive time learning and rigorously applying this tool and healed herself completely. Fourteen years on, she continues to use this life tool for all sorts of daily life challenges.
Professionally, Shalini helps clients worldwide who struggle with chronic pain and fatigue and equips and empowers them to help themselves.
In her book, she shares her personal journey of recovery and compelling stories of clients as well.  She also shows you step by step how you can use EFT to manage and heal your physical, mental, emotional pain and live the life you want.
Shalini is on a mission to equip and empower thousands of others to take charge of their health and wellbeing. With a tool like EFT, it is easy as relief is literally at your fingertips.
Shalini Joshi Yamdagni lives in Bangkok, Thailand, with her husband and two children who also use EFT Tapping to help themselves deal with daily life challenges.
Shalini Joshi Yamdagni is available for interviews.
Title: Instant Pain Relief: A Simple and Effective Approach to Healing Chronic Pain
Author/Contact:  Shalini Joshi Yamdagni
Company: MagicalPainFreeLiving.com
Email: [email protected]
Phone Number: +66898252631
About Shalini Joshi Yamdagni:  http://eftthailand.com/meet-shalini   
Availability:  Amazon.com
Book Preview: https://www.amazon.com/dp/B09TMWP3F2?ref_=pe_3052080_397514860