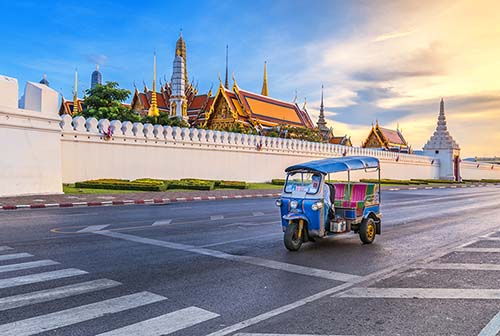 According to the latest MasterCard Global Destination Cities Index, Bangkok took first place as the most visited city in the world in 2016 based on visitors staying overnight in the Kingdom.
Cities in the Asia pacific region made up half of all cities visited in the world.
The top ten list was as follows:
Bangkok – 21.47 million
London – 19.88 million
Paris – 18.03 million
Dubai – 15.27 million
New York – 12.75 million
Singapore – 12.11 million
Kuala Lumpur – 12.02 million
Istanbul – 11.95 million
Tokyo – 11.70 million
Seoul – 10.20 million
Senior vice president, Asia Pacific, MasterCard Advisors, Eric Schneider was quoted as saying, "Asia Pacific has been the fastest growing region for international tourism since 2005, with underlying growth momentum expected to continue especially with the burgeoning middle class in Southeast Asia, China and India seeking new travel experiences within the region. Even as the tourism sector becomes more competitive, countries seeking to attract visitors need to continue to innovate and cater to the needs and preferences of the changing demographic of tourists today. Crucially, tourism has the power to drive significant social, economic, cultural and environmental development of cities in both developed and developing markets. While it brings challenges, it can also be the catalyst for large investment in cities and businesses and governments need to understand how to harness this potential in order to ensure continued smart development and sustainable growth in cities around the world."
In previous years Bangkok and London have been seen vying for the top position but in the most recent index, Bangkok had a healthy lead over the British Capital with nearly 2 million more visitors during the period.
Attractions in Bangkok included the many temples such as Wat Phra Kaew, or Temple of the Emerald Buddha, Wat Traimitis, the "Temple of the Golden Buddha." And Wat Pho, or Temple of the Reclining Buddha, the most popular attraction in Bangkok due to its detailed architecture. Also of interest was Wat Arun, or Temple of Dawn, which is particularly scenic in the morning light from the banks of the Chao Phraya River.
The grand palace was considered a must see by many international tourists.
Other attractions included the popular night markets such as Chat-u-Chak and the Ratchada Night Train Markets, famous for great food and all kinds of products.
Up market shopping malls such as Terminal 21, Siam Paragon and Central World amongst many others also were a big draw for visitors. These malls provide a great range of cafes and restaurants, department stores and boutique shops as well as the all-important air-conditioned environment.
Experiencing a trip in a tuk-tuk, taking a colorful taxi or riding the BTS were all attractions in themselves.
Bangkok also offers great parks and superb hotels to relax in, as well as a range of gyms and spas for maximum wellness.
Global Economic Advisor for MasterCard, Dr. Yuwa Hedrick-Wong, was quoted as saying, "The continuing strength of global tourism is one of the silver linings of an otherwise complicated and less-than-satisfactory recovery since the 2008/09 crisis. To a very large extent this is driven by an expanding middle class in many emerging markets. For such middle class households, traveling overseas is a priority as their discretionary spending expands."
Asia pacific cities also dominated the index of fastest growing destination cities in the world with Osaka in first place there. Based on travel from China and Korea.