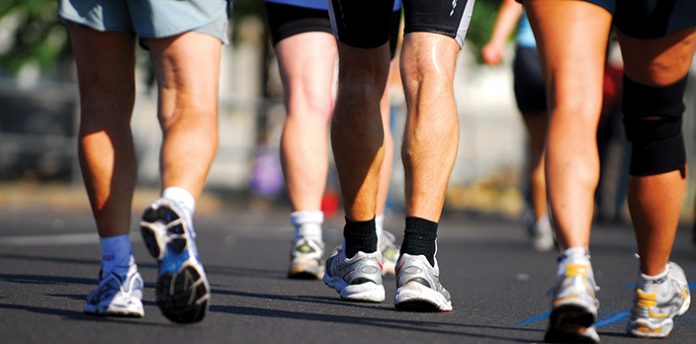 Whilst walking is a less strenuous form of exercise than jogging or other aerobic activities, it is still good for your health and can be considered a great way to become more active and lose weight.
It is a largely overlooked form of exercise, but regular walking has been shown to decrease the risk of heart disease, type 2 diabetes, stroke and other chronic illnesses.
You can walk around 1,000 steps in just 10 minutes and most people generally walk for about 40 minutes per day naturally anyway; that's about 4,000 steps. Try doubling this and you will start to see the benefits of walking as a way to keep fit. Just 30 to 40 minutes extra walking every day can increase cardiovascular fitness, strengthen bones, reduce excess body fat, and boost muscle power and endurance.
The best way to proceed is to arrange a walk to a destination. This could be to go to work or to go a shopping mall. Try missing out a ride on the bus or a drive, and walk instead. Some people look for scenic routes or destinations such as a walk along a river or khlong, or to a tourist destination, or even to a place that is interesting but that may have been overlooked by mainstream tour groups.
Before you start a longer than normal walk you should wear light clothes and comfortable shoes. It is also necessary, especially in hot weather, to remain fully hydrated so be sure to take a bottle of water with you and drink well before you set off. For those who start to walk over longer distances more regularly it is worth investing a good pair of walking shoes and some comfortable clothing. Yet ultimately, walking doesn't really require any special equipment and is essentially free.
Although, according to several studies, walking does not need to be vigorous in order to improve your health, to get the best health benefits you should try to walk more briskly than normal, rather than just taking a leisurely stroll. Try to build up your walking routines gradually and then you will find it will become easier over time.
Walking up stairs is also a good method to get your circulation going. Look to cross the road using footbridges or include on your walk some steps to a park plateau or to a monument.
It is also worth trying to find some organized walks or advertising for walking partners. Then you can enjoy the walk whilst talking to others and it will be much more fun.
Walking is great because you can walk in urban areas as well as the countryside. In Pattaya you can walk along the beach. In Bangkok you can walk in parks. There are plenty of places to go.
If you haven't exercised for a long time then walking is a great exercise to get you started.