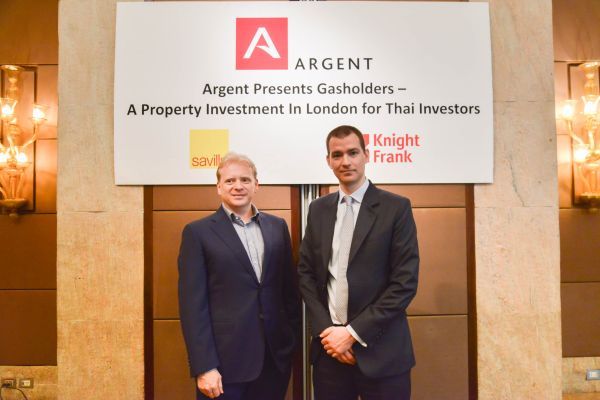 Bangkok–21 Feb–Spark Communications
Gasholders London, a new development of 145 contemporary apartments situated inthe heart of King's Cross, central London, is offering a unique opportunity for Thais to invest in the only homes in the world to be built within gasholder frames.
The trio of structures, which date back to the 1860s, have been lovingly restored and redesigned by award-winning architect Wilkinson Eyre and are due to be completed by late summer 2017.
Situated on the banks of the historic Regent's Canal, Gasholders London is built in cylinders of 8, 9 and 12 storeys that feature a range of properties, including studios, one-, two-, three bedroom apartments, duplexes and penthouses.
"King's Cross is London's new creative quarter, home to 67 acres of inspiring businesses and outstanding architecture, destination restaurants and a vibrant cultural scene. It is a great investment for Thais looking for a unique, and luxurious property in London," said Robert Collins, Chief Executive Officer of Savills (Thailand) Limited.
"Situated in Zone 1, and with access to no fewer than six Tube lines, over 10,000 people now work in what is seen as the best-connected area in the capital," added Mr Collins.
Gasholders London is set to become one of the world's most distinctive residential buildings, with central atriums, reminiscent of the interior of the Guggenheim Museum in New York City,
that bring light into the heart of the buildings.
Materials used in the exquisitely-designed apartments include treated oak, warm timber paneling, reflective poured resin floors by Dutch firm Sphere 8, and stainless steel and bronze accents throughout the apartments, as well as bespoke cast-concrete bathroom fittings and kitchens created by Italian firm Barzaghi Store to a bespoke design by Jonathan Tuckey.
"The penthouses in Gasholders are a unique example of refined living with the highest quality finishes and specification. Each will have bespoke bathrooms and kitchens designed by Boffi with some featuring screening rooms, grand staircases, enclosed spa gardens and light filledatria giving a sense of understated glamour," said Mr. Tom Goodall, Senior Projects Director on behalf of Argent (Property Development) Services LLP for the Gasholders project.
Gasholders London will also have a 24-hour concierge service, a gym, a spa, a cinema screening room with a private games and dining room and a communal roof garden atop Gasholder 12. The roofs of the other two Gasholders will be home to the private gardens for the nine individually-designed penthouse apartments.
"We are fashioning a distinctive part of London that is not dull or corporate or stuffy," said Mr Goodall. "It has become a hub of creative businesses and educational institutions."
To learn more about the property, visit http://gasholderslondon.co.uk/ .
Invalid Domain Name