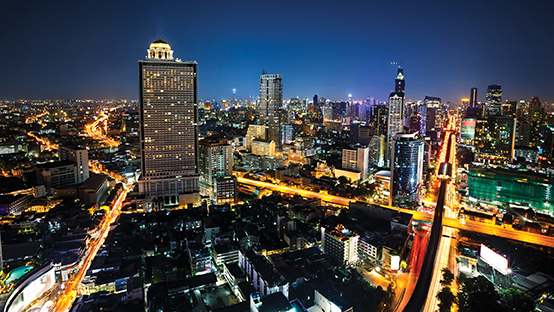 According to the highly-rated CBRE Research Thailand, the office market in Bangkok performed well over the past year, with limited new supply and healthy take-up driving rental growth and reducing already low vacancy rates.
CBRE Research Thailand noted that it continued to witness healthy pre-leasing demand, a trend first noted in 2015. Prior to that year, significant tenant commitments in advance of a building's completion were rare, but with office space becoming increasingly popular, it seems many companies are prepared to commit beforehand to tenancy agreements.
CBRE noted that Bangkok office rents increased by an average of 6.5 percent in 2016, with Grade A and B rents rising by 8 percent and 5 percent respectively. Bhiraj Tower at EmQuartier, for example, achieved a rental rate of 1,000 baht per
square metre per month for a small, standard specification unit. It became one of
three completed office buildings in Bangkok to pass the 1,000-baht-per-sq-m mark. Park Ventures Ecoplex, which, in 2013, was the first office block to break the 1,000-baht-per-sq-m rent level, set a new market record of 1,300 baht per-sq-m, again for a small, standard specification unit.
CBRE noted that in 2016 a total of 151,000 square metres of new office space had been completed. This included two new buildings, Thairath and Osotspa, both owner-occupied, with 26,000 square metres completed in the fourth quarter of last year.
The completion of these two buildings increased the total Bangkok office supply to 8.54 million square metres. This represents a year-on-year increase of 1.7 percent.
Despite an increase in supply, the overall occupancy rate increased to 91.8 percent. The accumulated net take-up was on track to reach 180,000 square metres for 2016, a slight reduction from 2015, but this would still be enough to reduce the overall vacancy by 0.8 percentage points year-on-year.
Pre-leasing demand continued to be strong, with Gaysorn Tower and M Tower, which are both scheduled for completion in the second quarter of 2017, securing significant commitments from tenants over six months prior to completion.
The Bangkok office market also witnessed its first wave of obsolescence during 2016 with the demolition of both Kian Gwan One and Vanissa Building, removing 28,000 square metres from the capital's leasable office stock. CBRE Research Thailand analysts expect this trend to continue as owners of outdated buildings consider their options against a backdrop of central land price appreciation and rising rents.
While quite a few developers have set aside significant land holdings for office developments, collectively amounting to around one million square metres of leasable space, only 463,000 square metres of this is due for completion prior to 2019.