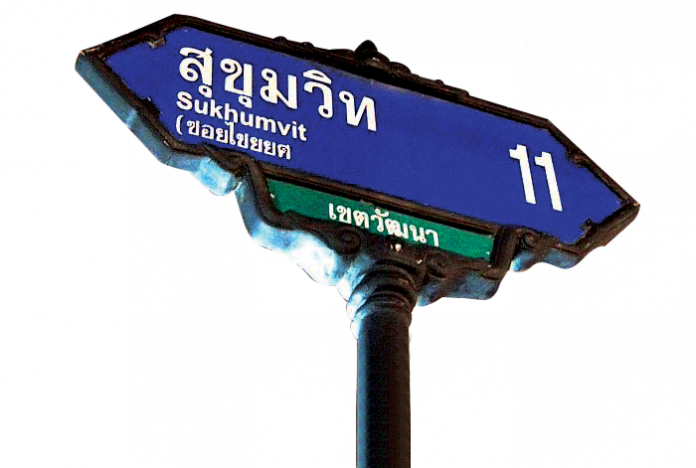 Some of the latest developments in this area have us a bit puzzled this month including the building between sois five and seven. This block of shops and restaurants has been the subject of demolition rumors for the last several years with talk of a hotel and/or several other projects going up here. The rumors seemed to be true after the demolition of the tunnel which was right behind this block that occurred months ago and also the closing of Check Inn 99 at the end of June.
However there is a recently opened Indian restaurant close to Check Inn 99's old location and no sign of the Check Inn 99 building being taken down yet. Perhaps this will be taken down at some point in the future but why would there be a new restaurant in the same general proximity? Doesn't make sense to us but then things seldom do in this city.
Another thing that doesn't seem to add up to us is the fact that what used to be a parking lot/beer garden next to the Amari Boulevard Hotel on Soi 5 is now a Middle Eastern marketplace full of small stall-like spaces selling the usual assortment of unneeded goods. What is confusing is that there is already a market across the street next to Foodland that is almost exactly the same as this new one. Since this first market appears to be empty most of the time (after a couple of years) we're wondering why anyone would rent a space in the new one that just opened. And, it seems like the same company owns both of these spaces. Having said this, however, it seems like not many people are interested in renting space in the new building because it's still mostly empty. Good luck to the ones that are in there already. We think you're going to need it.
Strikers Sports bar has re-opened on Soi 4 in the last few weeks. It's a large space with plenty of pool tables and a commanding view of Soi 4 from its second floor perch. The food is being prepared by Kip Oxman, former chef at Monsoon and Hemingways so the quality should be good.
And the construction project that is now occupying the former Strikers space in what was the parking lot of the Rajah Hotel is proceeding apace. It's going to be a lot larger than we originally thought and will take up most of the space, going up at least four stories from what we can see now. We wonder if they will find enough people to pay 3,000 baht per square meter for space there. Seems like a lot but who knows. What it appears they're banking on is that they feel the makeup of the soi's visitors will change to a more upmarket crowd instead of the current expat/tourist that is drawn by the soi's current attractions. It will be interesting to see what happens when this new development opens.