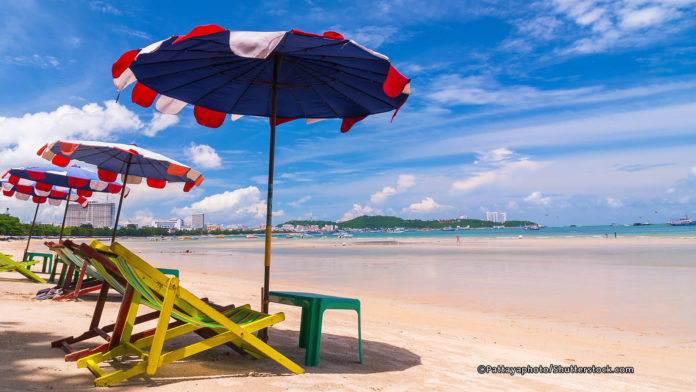 If you are a Pattaya resident looking for a break, then there are many places to visit in Thailand, without all of the stresses required these days to go to an overseas destination such as potential quarantines, or even total travel bans at short notice.
Near to Pattaya are plenty of options for a getaway that will be hassle free and provide plenty of great memories. Check out Rayong's Mae Ram Phueng beach. This extensive beach lies just to the east of Rayong City and has natural beauty, as it is not over-developed. 
At the end of the beach on its own cliff side viewpoint is Rayong Resort, a well appointed hotel with its own beach head and fishing pier overlooking the beautiful island of Koh Samet. Talking of Koh Samet, it is accessible from Ban Phe village, which is a short distance from the end of Mae Ram Phueng beach. Ideal for a short getaway, it is considered one of Thailand's jewels.
Further east is Chantaburi, home to durian fields and sapphire mines which you can visit on day tours. Of course recommendations along the east coast of Thailand wouldn't be complete without a mention of Koh Chang, which sits off Trat province and is home to some great beaches and greenery. A trip there for a few days would be worthwhile as there are a number of very nice resorts dotted along the various beachfronts.
Further afield, whilst everyone is aware of the trappings of a trip to Bangkok or Chang Mai, some places off the beaten track are well worth considering. Ayutthaya, around 80 kilometers north of Bangkok, is home to the ancient city that was the capital of Thailand in the fourteenth century. The unique historical ruins can be found at the Ayutthaya Historical Park, as well as a number of famous temples including Wat Phra Mahathat, Wat Phra Si Sanphet and Wat Yai Chai Mongkol, the latter known for its huge reclining Buddha statue.
In the north of Thailand the town of Pai in Mae Hong Son province is home to some spectacular country views which can be seen to great advantage from the Yun Lai Viewpoint. The town of Pai itself is quite compact, but nearby are some great trails in the Pai Canyon, with stunning views of rice terraces, a multitude of waterfalls, and the famous Tha Pai hot springs.
Also in the north, located between Chiang Mai and Chiang Rai is another beautiful town called Phayao. This town sits on the edge of the largest freshwater lake in the northern region and is also close to mountains, which can be seen as a fantastic backdrop. The view across the lake from the town centre is quite breath-taking and makes for memorable getaway. Boat trips, cycling tours and other outdoor activities await. 
Across the gulf of Thailand and easily reached by road from Pattaya by skirting the south of Bangkok, is Hua Hin, a beach side resort town best known as the Kings holiday retreat, but also famous for its beaches which offer a quieter way of life. Within driving distance of Hua Hin there is also the Kaeng Drachan National Park and the Pranburi Mangrove Forest.
Phuket and Koh Samui await those looking for a more southerly getaway. Often flights from Bangkok Airways can be found that leave Pattaya's U-Tapao airport for a direct connection.

Phuket's well known beaches include Nai Harn Beach, which boasts crystal clear waters, and Kata Noi beach for a quieter stay. Phuket Town is worth exploring for traditional markets and quaint buildings that can make for picture perfect settings. Koh Samui is well known for its beaches too, but it is part of 
Ang Thong National Marine Park that covers 42 islands many of which are home to exotic animals. Activity options include scuba diving, jungle trekking and boating around the islands. 
Whatever kind of break you are looking for, you can be sure of being spoilt for choice without even leaving the country.