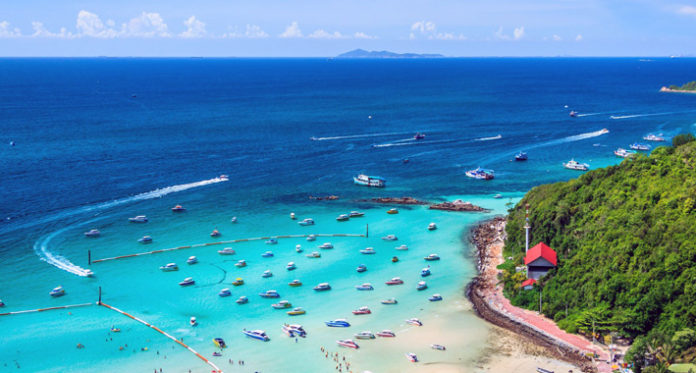 Previously announced development plans by the Pattaya City Municipality under the banner "Neo Pattaya", are going full steam ahead and if anything will be speeded up.
They form part of an already pledged spending package that will aim to improve tourist destinations as well as provide much needed infrastructure to the city.
Within the package are two large-scale schemes known as the "Old Town Na Klua", and "Neo Koh Lan" projects, targeting the northern suburb of Na Klua and Pattaya's very own island haven, Koh Lan, respectively.
For the "Old Town Na Klua" project, 425 million was earmarked for 14 subprojects including improvements to Chaloem Phra Kiat Park, the development of a new fresh market and the construction of a five-story car park complete with a walkway, a botanical garden and a viewing tower.
Although Na Klua has long been a popular retreat for long stay tourists, it is hoped that more people will be able to discover its old world charm. The plan is to lure visitors to Na Klua and to highlight the heritage of the area as well as to give visitors a closer appreciation of the working lives of local vendors and fishermen.
Budgets have already been allocated for 10 separate subprojects of the Old Town Na Klua project out of the 14 in total.
As for the "Neo Koh Lan" scheme, it covers a total of 21 subprojects on the island including a newly built scenic tower, water treatment improvements, landscape improvements at Tawaen beach and further development of the Hat Tien beach to include a pier, a footbridge and a maintenance center.
Koh Lan has long been a popular day trip destination for visitors, hosting up to 7 million tourists per year prior to 2020. The goal is to ensure Koh Lan has all the attractions and capacity to handle future returning visitors. It could be said that the island is a jewel in Pattaya's crown and so it is a welcome sign that it is continuing to gain the attention of city planners.
Outside of Koh Lan and Na Klua, other Pattaya City improvements are being made under the broader "Neo Pattaya" scheme.
These include deployment of the city drainage system, development of the Pattaya City Hospital, and enhancement of schools in the city.