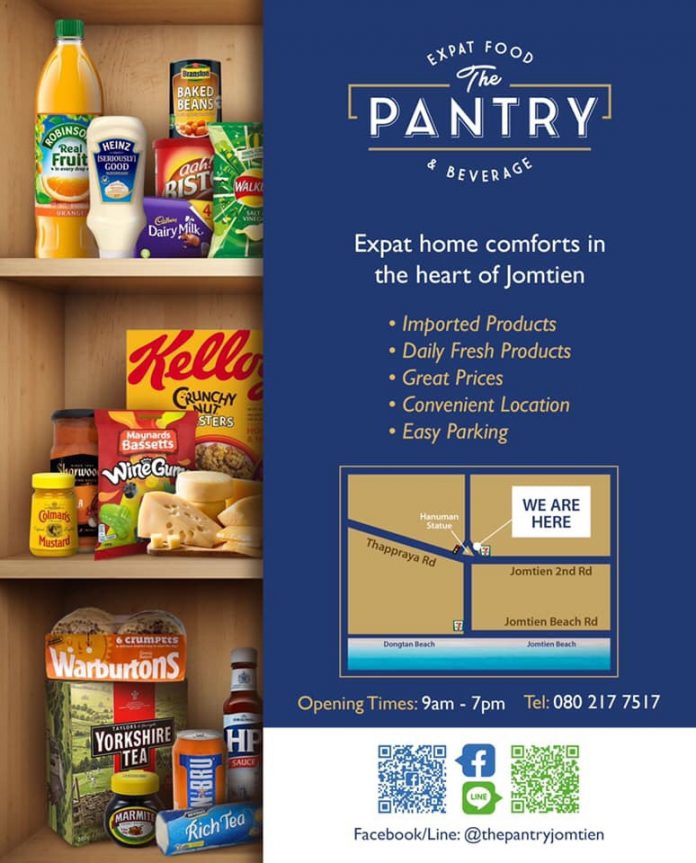 We found out about this wonderful expat shop from a friend who was very excited to tell me that they had just been to The Pantry in Jomtien and stocked up on lots of their favourite foods from home.
So off we went to find this little diamond in the rough that our friend was so excited about. It really was very easy to find as the Hanuman statue right in the centre of Jomtien were the directions we were given and they were spot on. There was lots of available parking right in front of the shop for both cars and bikes. It is two doors up from the trusty landmark 7/11.
We must say the look and presentation of the outside of the shop are absolutely first class and very professional. There was also all of the relevant Covid protocols to complete before entering the shop temperature checks, signing in and wearing a mask. We were greeted with a welcoming wai and sawadee krap by the staff and a very well organised and clean environment. While the shop may look small on the outside you soon realise that you are walking into something similar to Dr. Who's tardis with 7 freezers and 3 large stand up fridges, shelving on the walls and down the middle and a huge counter filled with a pie warmer and fresh products for sale like apple tarts and carrot cake.
At this point we are pumped, as we have already seen several things that we can't wait to enjoy again! So we picked up a basket and began to walk around the store.
We asked the staff about The Pantry brand bacon and sausages and were told that The Pantry is the only place in Pattaya where you can buy these products. They are manufactured outside and delivered weekly and are a "best seller". We had the bacon the next day and they were not joking – it was sensational. It cooked beautifully and tasted amazing. There were 2 freezers full of Manstons locally produced products which included lots of bacon, sausage, kebab meat, burgers etc. Also lots of other frozen Pantry products like, pies, pasties, crumbles, muffins, crumpets. Then there was a freezer with lots of frozen fish products. We saw kippers, white and smoked haddock, salmon steaks, smoked salmon slices, birds eye fish fingers, fish cakes and kippers in butter. Then onto the ready meal section with Indian, Chinese, British and European classics there must have been over 40 different meals!
Now it was time to see what the fridges had to offer and we weren't disappointed. A two door fridge jam packed with incredibly priced cheeses from all over the world UK, Holland, France, Denmark and Italy. We counted 13 options but there could have been more. We opted for the amazing deal on mild cheddar (was full of taste and a little stronger than mild) with 1/2 a kilo for 148 baht absolutely incredible. There was top end mature cheese there and some lovely looking Dutch Gouda which we will try next time. The next fridge was full of cold cuts, several cuts of ham (we went for the well priced Pantry Paris ham – very tasty indeed) pepperoni, Parma ham, salami etc. There was also pate, green olives, sun dried tomatoes, imported New Zealand butter and Nuttelex butter. Then on to the third and final 3 door fridge, the naughty fridge. Absolutely rammed with every kind of Cadbury's chocolate bar, multi-pack and bag of chocolates, just amazing. They even have boxes of Roses and Heroes which we couldn't resist. To complete the fridges there are also many adult beverages for sale imported from the UK, Italy, France, Australia and Chile.
We then ran into a display with about 10 different bags of sweets, wine gums, liquorice and miget gems. On the same display was dorito dips with salsa and cheese (once again we couldn't resist) and lots of flavours of beef jerky.
There is a centre aisle piece of shelving with tons of almost every kind of food you can imagine – baked breads, Heinz spaghetti, tomatoes, mushy peas I could go on all night. Add to that every kind of sauce imaginable including Nandos sauces and rubs which we put into our basket, mustards, mint sauce and on and on. Tea bags including PG Tips, Yorkshire Tea, Typhoo and Tetley to name a few.
We are so happy to have this shop in the Jomtien area as it is so convenient and a tremendous addition to the area. Bravo!