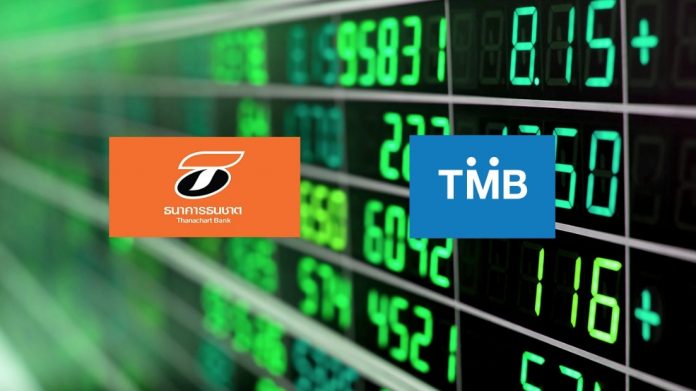 https://www.thailand4.com/en/L7z3
TMB shareholders approved to change the name of the new bank after the merger of TMB and Thanachart Bank to "TMBThanachart Bank" or "TMBThanachart (ttb)" reinforces the strength and credibility of both banks that customers, employees and Thai people have long ties to and come to trust. Combining strengths by creating financial products and services to deliver a good customer experience, the new name emphasizes the goal of creating a better 'Financial Well-being' for Thai people.
Dr. Ekniti Nitithanprapas, Chairman of the Board of Directors of TMB or TMB Bank Public Company Limited, commented, "The Annual General Meeting of Shareholders for the year 2021 was held on April 23, 2021 where shareholders resolved to approve the name change of TMB Bank Public Company Limited to TMBThanachart Bank Public Company Limited. In accordance with the rebranding strategy, the bank will use the new commercial name "TMBThanachart", abbreviated as "ttb". This new name reflects the synergy of the two banks. The first 't' stands for 'TMB', the second 't' stands for 'Thanachart' and 'b' for bank. The abbreviation of listed securities will also be changed from TMB to TTB in the near future."
"The name TMBThanachart (ttb) represents the synergy of both banks and to create value for customers in all aspects. It reflects a stable financial institution and reinforces strength, credibility and reliability, including providing financial services that Thai people have always trusted."
Mr. Piti Tantakasem, Chief Executive Officer of TMB said, "The employees of both TMB and Thanachart have come together to form a strong ONE Team, and are ready to lead this organization in the same direction in accordance with our corporate goals. After the merger is completed in July 2021, the bank aims to create better Financial Well-being for Thai people so that everyone can live their lives with better financial freedom. "
From May 7, 2021 onwards, the bank has plans to launch a new brand. "TMBThanachart" (ttb) will assume a new look, both in terms of marketing materials and service channels, including bank branches, mobile applications and ATMs. Additionally, customers can expect new financial products and services, that will be gradually released, to create better financial lives for customers and Thais nationwide.
Regarding this merger, TMB's customers can continue to use products and services under the new brand, TMBThanachart. While Thanachart's customers can be assured that this change will take your financial experience to the next level. The bank will communicate the details of the changes in advance, including the steps that customers need to take for service continuity with TMBThanachart.