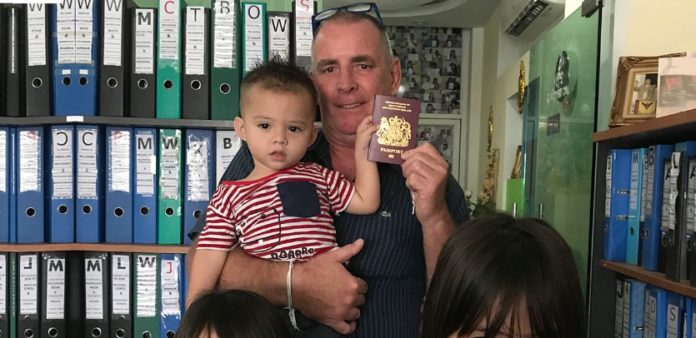 Obtaining a UK passport for your child is now even more of a priority than ever before. With so much uncertainty in the world, none of us know when we may need to uproot our family and head back to the UK either temporarily or permanently.
The cost of obtaining a child's British passport from overseas is £88.51 and you need two passport photographs of your child taken with a white or light grey background. The application must also be countersigned by someone who has known your family for 2 years and should preferably be a British citizen. If someone who is not a British citizen countersigns your application then expect delays and there are already delays due to the state of the Covid-19 situation in the UK.
Due to these delays, start your application as soon as possible even if you don't have immediate travel plans. Consider the passport as an essential document rather than just a travel document.
If your baby is not yet born and you or your partner are expecting then now is the ideal time to make sure that you have a copy of your full British birth certificate, this should be the one which also lists your parents name, not the short certificate. If the British parent was born after 1/1/1983, there is additional criteria required and you can get the full information on this by visiting our website keyvisathailand.com
Be prepared to also supply a copy of the hospital records documenting your baby's birth and photos of the Mother during the pregnancy and a selection of photos of the child with both parents from the time of birth to the time of applying for the passport.
In order to process the application you need to apply for an appointment by email at the HMPO office in Bangkok and attend the appointment with all of your paperwork. The passport will take a minimum of 6 weeks to be issued but most likely longer during the current circumstances and then you will also need to pick it up from Bangkok. If you are unable to or it is inconvenient to travel to Bangkok then Key Visa can handle this process on your behalf. Simply email us at [email protected] for more information.
Most children born to British citizens outside the UK are eligible for a British passport, however there are certain circumstances where your application may not be straight forward. You do not need to be married to your Thai partner but your name must be on the baby's birth certificate.
If you were born outside the United Kingdom and your baby is now being born outside the United Kingdom, they will not automatically be entitled to a British passport. In this type of circumstance you should seek the advice of the British passport office or an agent such as ourselves.
At the same time as applying for your child's passport, you should also consider a long term UK visa for your Thai partner such as a multiple entry tourist visa.
For further information on either Children's UK passports or UK visas for Thai citizens, please contact [email protected]