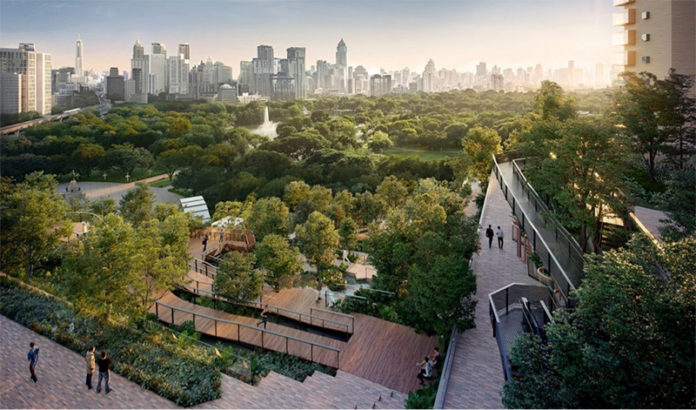 https://www.thailand4.com/en/L4vb
Dusit Thani Public Company Limited (DTC), one of Thailand's leading hotel and property development companies, and Central Pattana Public Company Limited (CPN), Thailand's largest and most diversified property developer, have announced their plans to increase investment in the upcoming 'Dusit Central Park' (DCP) mixed-use project from 36.7 billion to THB 46 billion (+ THB 9.3 billion) to address sharp shifts in consumer behaviour, position the property to create value for the longer term, and cement DCP's position as one of Bangkok's top attractions.
To achieve this, DTC and CPN plan to inject additional funds to enhance the project's layout and design, with enlarged interior and exterior spaces and other features designed to strengthen the project's positioning and competitiveness, bring value to the broader community through its large green space, and drive return on investment in the post COVID-19 world. Functional space would increase by around 31% (71,907 sq m), creating more opportunities to generate revenue for both parties.
DTC's proposed incremental investment, subject to approval at the Company's annual general meeting of shareholders, is THB 4.335 billion. This would raise the company's total investment in the project from THB 12.915 billion to THB 17.25 billion. The source of funds for this additional investment would include bank loans and support from the project's shareholders.
To maximise RevPar (Revenue Per Available Room) and strengthen the competitive positioning of the new flagship Dusit Thani Bangkok hotel, DTC plans to utilise the funds to enlarge the size of the hotel's rooms, refine the layout to add more privacy, and fully leverage the property's position opposite the city's renowned Lumpini Park by ensuring all rooms have unobstructed views of its vast green space.
Reimagined signature elements of the original Dusit Thani Bangkok included in the design would also be enhanced, including an oasis-like lobby with cascading waterfall, an expansive ballroom with large adjoining function rooms connected to the waterfall area, and an exciting new take on the hotel's original rooftop supper club, Tiara, whose contemporary setting will incorporate the iconic golden spire from the original hotel.
The residential element of the project – including the luxury Dusit Residences aimed at city executives, and the high-end Dusit Parkside aimed at families – would also be enhanced to maximise their appeal among their respective target markets. This includes an increased emphasis on functionality, facilities, amenities, and privacy to offer the utmost in comfort and convenience. Partitioned common areas and private elevator lobbies for each unit at Dusit Residences, and single loaded corridors at Dusit Parkside to further enhance the sense of privacy, are just a few of the highlights of the considerate design. Residents will also benefit from Dusit's unique brand of Thai-inspired gracious hospitality.
In line with DTC's commitment to always have a positive impact wherever it sets foot, the increase in functional space across Dusit Central Park will include the large green space planned for the heart of the project. Designed to be a leafy retreat for the whole of Bangkok to enjoy, the project's multi-level, rooftop public park will occupy 7-Rai (11,200 sq m) and feature elevated walkways, jogging paths, and places for rest and recreation with panoramic views of Lumpini Park.
"With the COVID-19 pandemic bringing sharp shifts in consumer preferences and reshaping global business, it's important that we plan for the future today by adding value to our project so we can fully embrace the opportunities of tomorrow," said Ms Suphajee Suthumpun, Group CEO, DTC. "Our prudent investment has been carefully planned to respond to these changes; fully leverage our prime position in the heart of the city; add more convenience, experience and value for maximum revenue generation; bring more green space to Bangkok; and further grow Dusit Central Park into a world-class project that uniquely blends Thai-inspired gracious hospitality with global standards of service and design to become a new Bangkok icon.
"To achieve this, and drive strong investment returns, we will continue to seek to elevate the project across four holistic dimensions – 1) Blending innovation with heritage and history, 2) Connecting four key areas of Bangkok (including the historic quarter, our modern neighbourhood, the bustling downtown, and the financial district) via Skytrain, road, and subway to create a new Super Core CBD, 3) Bringing people closer to nature through our large rooftop park and prime position opposite Lumpini Park, and 4) Bringing new life-enriching experiences to the community. Ultimately, we aim to bring sustainable value to all our stakeholders, and set the new standard for exceptional city living, shopping, working, relaxing and playing in the post COVID-19 world."