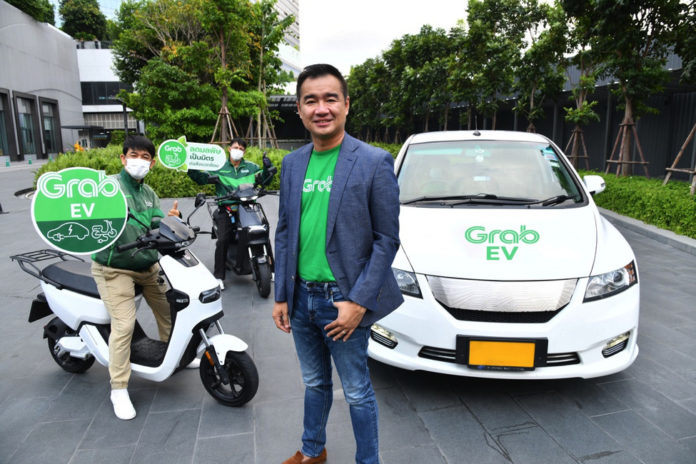 https://www.thailand4.com/en/LZEd
Grab Thailand announces its ambitious goal in supporting the government in promoting the adoption of EVs among its driver- and delivery-partners by targeting 10% of vehicles providing ride-hailing and on-demand delivery services on the platform are electric vehicles (EVs) by 2026. The company is currently in the plan to discuss with manufacturers, distributors, and charging stations to drive the use of EVs among driver-partners, as well as, partnering with financial institutions to support their financial planning and loan services. Under this initiative, Grab Thailand will cooperate with the public sector to raise public awareness and promote a better understanding of EVs and its benefits among driver-partners as to support the government's joining forces with the ASEAN countries in driving green energy and reducing the greenhouse gas emissions in the region.
Worachat Luxkanalode, Executive Director of Grab Thailand, said, "Climate change can have extensive intergenerational impact on the well-being and livelihoods of communities everywhere. To minimize environmental footprint, there is a need to reduce dependence and usage of fossil fuel and encourage usage of renewable energy and low carbon technology and innovation. With the cutting-edge advances in technology, electric vehicles (EV) have now become the new and popular choice for many people across the nation. To drive the country towards the EV society is one of the key strategies and indeed, a national agenda for the government to help address the issues of fuel price hikes and global warming sustainably."
"As a platform provider, Grab Thailand has always placed our concern on the importance of environmental issues. We have been initiating various projects and activities to support the use of clean energy, while minimizing the environmental impact from the services such as launching the pilot projects to encourage the use of electric motorcycles in providing food delivery services among our driver-partners and the feature launched that encourages users to participate in the carbon offset program allowing them to donate for reforestation programme. To reinforce our commitment in promoting environmental sustainability this year, Grab Thailand is eager to announce our 5-year goal [2022-2026] to further support the adoption of electric vehicles. We aim to increase the number of driver-partners driving electric vehicles (EV), targeting 10% of the total driver-partners within 5 years. This initiative is aimed at supporting the government policy in driving the clean energy and reducing the greenhouse gas emissions in the region."
To achieve our goal, Grab Thailand will focus on three key activities as follow:
Exploring opportunities to collaborate with electric vehicle manufacturers and distributors in providing electric cars and motorcycles that match the needs of driver- and delivery-partners, as well as, promoting for the vehicle pilot program and joint education campaigns. The partnership will also extend to related service providers such as the electric vehicle charging stations and its charging system management to encourage the use of electric vehicles more efficiently.
Partnership with financial institutions to help provide financial planning or loan services with special interest rates and daily repayments. This is to encourage more interest and help reduce the debt burden for freelance workers or those who may not have access to the financial system.
Cooperation with the public sector to promote a better understanding of electric vehicles among driver- and delivery-partners, especially in terms of economic, social, and environmental benefits, as well as, sharing related trends and technology to raise their awareness and acceptance which, in turn, leading to more trials and words spread.
"This long-term goal announcement of Grab Thailand in promoting the use of electric vehicles is just the first steppingstone that reflects our dedication to helping address environmental issues and promotes sustainability goals, which is also a part of our GrabForGood mission to support and uplift the quality of life for the people in the society. Grab is ready to be another driving force in raising public awareness and encouraging the use of green energy in our business ecosystem. We are in full support to cooperate with the public sector to drive and achieve the national agenda on the electric vehicle as planned." Worachat concluded.
Source: FleishmanHillard