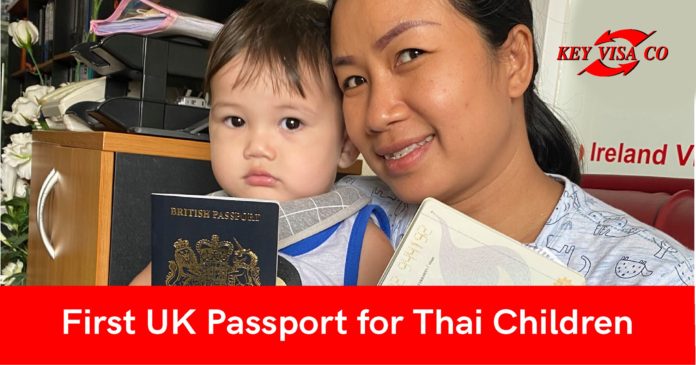 As a British Citizen when you have a baby with a foreign partner, your baby is also entitled to a British Passport. There are some countries which don't allow dual nationality but Thailand and the UK both allow their citizens to be dual passport holders. So, in most cases your baby will be eligible for a British passport.
There is quite a lot of paperwork to be collated so as soon as you find out your partner is pregnant start finding out the documents you need as some things may need to be sent from overseas or copies obtained.
You must supply two color photographs of the baby and it is best to use a professional photography shop who are experienced in taking passport photos for babies (if the child is very young) as the photos have to match the guidelines 100%. The passport application form must also be countersigned by someone who has known the family for 2 years, and they should be either a British citizen, EU citizen or a commonwealth/US citizen. If they are from the EU they should also supply a copy of the data page from their passport, your application may be processed faster if your countersignatory is from the UK or EU.
If the Mother is Thai, then the documents she needs to supply are her Birth Certificate, Thai Identity Card and house registration (Tabien Baan) as well as her passport if she has one and any marriage/divorce or change of name certificates. She may also be asked to supply her hospital/birth records to prove that she gave birth to the child who the passport will be issued to.
The Father (British Citizen) needs to supply his passport and the long version of his Birth Certificate (the one with his parents names on). If the father was born after 01/01/1983 he will also need to supply a copy of his parents birth certificates and their marriage certificate if they were married.
If both parents are British Citizens then they would both need to supply these documents. If the Mother is British then the hospital records may not be required but it is best to request them from the hospital anyway.
You should also include a selection of photos showing the Mother during her pregnancy and the child with both parents since the birth until the time of applying for the passport.
In addition to this, you may also be asked to supply photos of the child with both parents from the time of birth to the time of applying for the passport.
If the child already has a Thai or other nationality passport then you will need to supply that also. Along with the babies original birth certificate and completed application form.
If your child has had any change of name since the registration of birth then you will need to supply legal documents for this also.
There are some exceptions in which your child may not qualify for a British passport including if you were also born overseas. If this is the case, then please get further advice before deciding not to apply, as a British passport will be very helpful for your child's future.
Whether you plan to travel overseas in the near future or not, it's a good idea to apply for the passport as soon as possible. As we've seen this year, it may be necessary to go back to our home country unexpectedly or end up staying longer than planned in a foreign country and it's always better to have the strongest passport that you qualify for in these situations. If for any reason, you decide to move back to the UK, then it will be much easier if your children already have British passports.
If you would like to apply for a British passport for your Thai child then please contact Darren at [email protected] who can make the process simple, easy and stress free.