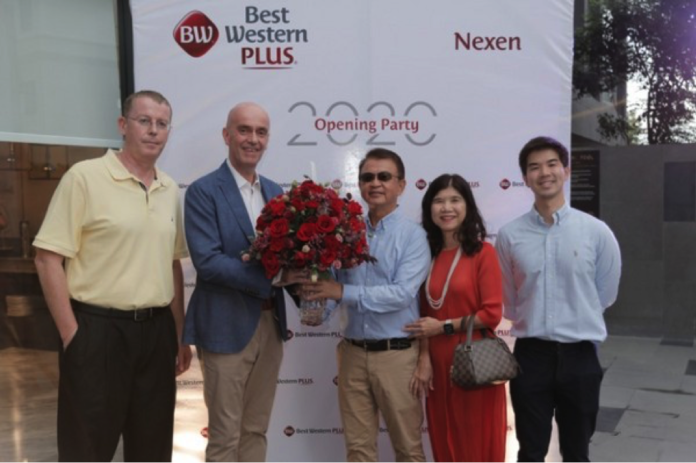 Travel and Lifestyle Press Releases Monday October 12, 2020 16:57
Bangkok–12 Oct–Best Western Hotels and Resorts – Asia
Best Western Hotels & Resorts celebrated its brand new hotel, Best Western Plus Nexen, with a glamorous and cozy poolside opening party in Pattaya, Thailand.
The exclusive event was attended by the hotel's esteemed owners, including Virat Chouwalitnitithum, Duangsuda Chouwalitnitithum and Kiattiyot Chouwalitnitithum, Managing Directors of the Best Western Plus Nexen, and senior executives from BWH Hotel Group. Local partners, members of Pattaya's tourism and business community were also in attendance.
Olivier Berrivin, BWH Hotel Group's Managing Director of International Operations – Asia, and David Richard O'Hanlon, General Manager of Best Western Plus Nexen, addressed guests with welcome remarks. Attendees enjoyed delicious snacks and refreshing drinks throughout the evening, both at the hotel's outdoor swimming pool and EXE Bar, the casual lobby lounge. The evening concluded with a draw, giving everyone the chance to win free nights at the remarkable new property. Kickoff Marketing supported the exclusive launch party.
Nestled in Pattaya's Naklua district, surrounded by local attractions, Best Western Plus Nexen is a modern midscale hotel that blends eye-catching design and exceptional amenities with warm, genuine service. The 164 rooms and suites are spacious, stylish, and fully equipped with the latest technology, including complimentary Wi-Fi. The property hosts a fitness center, an outdoor swimming pool, children's pool, kids' corner, an onsite restaurant and a lobby lounge.
Guests can now experience this exciting new hotel with an exclusive opening rate – just 888 Baht net for room only. This offer is valid for direct bookings made throughout October and November 2020. To book, email [email protected] or call +66 (0) 33 112 999.
Best Western is one of Thailand's leading international hotel groups, with 14 hotels and resorts now operating across the Kingdom, including key destinations such as Bangkok, Phuket, Chiang Mai and Pattaya, and up-and-coming locations in Buriram and Prachinburi. The company will continue expanding its Thai portfolio in the future, with at least two new properties in the pipeline.
To learn more about Best Western Hotels & Resorts in Asia, please visit www.BestWesternAsia.com.
The photo shows from left to right:
Photo caption:-  David Richard O'Hanlon, General Manager of Best Western Plus Nexen; Olivier Berrivin, Managing Director of International Operations – Asia of BWH Hotel Group; Virat Chouwalitnitithum, Managing Director of Best Western Plus Nexen; Duangsuda Chouwalitnitithum, Managing Director of Best Western Plus Nexen; Kiattiyot Chouwalitnitithum, Managing Director of Best Western Plus Nexen