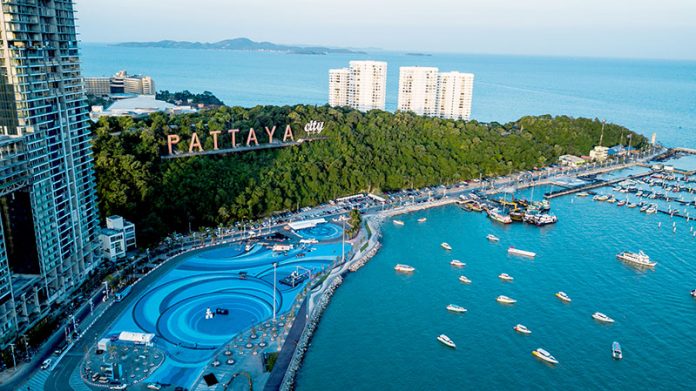 Pattaya City's proposals for a 2.9 billion Baht mega project to develop the area around Bali Hai Pier has gained broad approval following a local public meeting chaired by Pattaya's deputy mayor Ronnakit Ekasingh, and will now be sent to the Eastern Economic Corridor committee and the cabinet as part of due process.
The project is expected to be a joint venture funded by both the private sector and the government.
Three main aspects to the project were discussed, the first of which was the development of the pier area and terminal for cruise ships. Once the cruise industry gets back on its feet, Pattaya is expected to be a major port of call on regional cruises. The expansion of the pier will ensure that Pattaya as a resort city captures a large share of tourists that have elected to enjoy a cruise in Asia.
Secondly a recreational area covering 15 rai will be built on the nearby waterfront, which will include landscaped gardens, a department store, an additional boat pier to accommodate a yacht port and a light rail station that will be the end point of the Pattaya monorail. A tramline to connect the pier to Walking Street is also expected.
Pattaya City Mayor, Sonthaya Khumpluem, was quoted as saying, "The pier design has already been completed. The next step is to present the design to relevant agencies for an EIA (Environmental Impact Assessment)," adding, "The Cruise Terminal is planned to be constructed at the pier to support EEC (Eastern Economic Corridor). Meanwhile, the Pattaya Walking Street is to be renovated and improved to make it truly world class for shopping, eating and nightlife."
The third part of the project is to create a 38,000 square meter commercial area near to Walking Street that will become a new Central Business District (CBD).
Sensitive to the qualities that make Walking Street so popular currently, the project is expected to take into account all of the characters of the existing area and build on them rather than to make changes that may be too drastic and that may change the perception of the already successful hotspot.
In addition to the Bali Hai Pier project, the development of other landmarks is also on the cards.
Sonthaya Khumpluem was also quoted as saying, "We are planning to develop several major Pattaya tourism places which are Pattaya Walking Street, the Bali Hai Pier and Thap Phraya Hill," adding, "Meanwhile, a world class Sky Walk is planned to be built at Thap Phraya Hill which will feature stunning views and architecture."
Pattaya is taking all the steps during the pandemic to improve the city for when tourism returns in order to make Pattaya a world class destination.