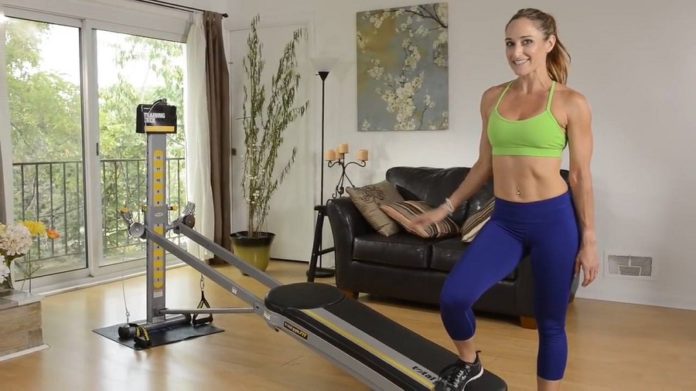 the key to a better life – Weight train at home, quickly and easily
They are marketed as the best dumbbells in the world, and for anyone who wants to train in the privacy of their own home but has limited space, they are probably the ideal solution for a weight rack. They are PowerBlocks, and although not cheap, are a piece of exercise equipment is designed and virtually guaranteed to last for a very, very long time. And they work, really well, being the perfect weight-training tool for those with limited storage space.
So, what are PowerBlocks? First released onto the market only in 1993, PowerBlocks are usually made of urethane. This is, basically, a kind of rubber which doesn't leave marks and is known for is durability.
A single set of Powerblock dumbbells negates the need to have a range of ordinary dumbbells and weight plates lying around. Basically, having a Powerblock set is the equivalent to having around eight or so separate dumbbells of varying heaviness.
To the gym-goer who is used to standard dumbbells, the PowerBlocks initially may feel strange, being square rather than round. Very quickly though it becomes apparent the shape is not a limiting factor in any way to doing a good workout.
A PowerBlock dumbbell has a selector pin, on one side of each PowerBlock, and this allows the user to quickly and easily change the selected weight in steps of either five or 10 pounds (2.5 to five kilos), depending on which model of PowerBlock is being used. Weight changes are instantaneous, there are no extra parts to tighten, and the colour-coded bands make it easy to see which weight is selected.
The top of the PowerBlock is open to allow easy access for either large or small hands. At the center of the core is a firm textured handgrip that provides a secure, non-slip grip. Grasp the handgrip and lift upward. The selected weight slides smoothly free of the remaining stack.
The selector pin securely locks the weight plates to the handle with multiple points of contact. The pin won't come loose, no matter how fast you move or shake the dumbbell, what exercises you perform, or how much weight you use. This is a great ultimate combination of security and adjustability.
There are many reasons why people don't or won't go to train in a gym. If you are the kind of person who is looking to get into better shape, but doesn't want the hassle of joining a gym, but is sufficiently motivated to spend around 20 to 30 minutes a day for three or four days a week in the comfort of your own home, then PowerBlocks could be the perfect exercise 'tool'.
After all, you can choose what time to do a workout; how long to spend doing that workout (longer on days you feel good and have the time; shorter on days when time is tight, or you just don't have the energy); the level of weight resistance you want to try for each exercise, and all from the privacy of your own apartment or house. The only limiting factor is you: how dedicated and motivated you can or want to be to achieving your fitness goals.
Note: the sponsor of this page, Seara Sports, has stocked PowerBlocks at their stores in Pattaya, Bangkok and their other branches in Thailand. If they don't have a set in stock, they can be ordered.