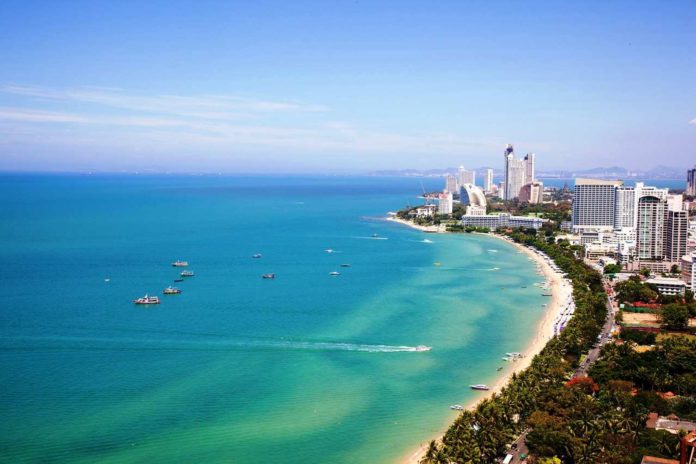 In order to boost local tourism, The City of Pattaya will improve the city's famous beachfront area with a 160 million bahtmakeover scheme.
Sonthaya Kunplome, mayor of the City of Pattaya, was quoted as saying, "The City of Pattaya needs to change its tourism strategy to draw local tourists to the city."
The scheme will cover a 4 km stretch of beach road from North Pattaya to Walking Street and will include landscape improvements such as planting more trees, remodeling gardens and greenery and renovating walkways to make them safer and more attractive. Underground public toilets will also be installed and parking bays for coaches along beach road are earmarked in the plans.
Work will start in October and the goal is to complete the project by the end of this year.
Although the aim is to boost local tourism in the immediate future, the beachfront improvements will ultimately form part of a longer-term plan to improve Pattaya's standing in the international market too.
International visitors from China, India, Europe, Russia, Australia and North Asia made up 80 per cent of tourists to Pattaya before the Covid-19 pandemic.
The beautification of Pattaya beach comes hot on the heels of the beach-widening scheme that was completed a couple of years ago. The widening of the beach from just 5 meters to as much as 50 meters was instrumental in increasing tourism to the resort. More holidaymakers have been seen enjoying the newly widened beach since the makeover.
There were some concerns that the imported sand would end up being washed away but so far the newly widened beach has been kept in tact and has proven to be a valuable asset to the city.
So much so, that another scheme to widen Jomtien beach has now been given the go ahead.
In the initial phase, 586 million baht will be spent on widening 3.5 km of eroded shoreline along Jomtien beach, from Jomtien Soi 11 all the way to the Lung Sawai restaurant. 680,000 cubic meters of imported sand will be used to broaden the beach by 50 meters.
A second phase will commence in fiscal year 2022 to widen the remaining stretch from Soi Na Jomtien 11 to Phra Tamnak, another 3.5 kilometers.
Currently much of the beach at the far end has been eroded to expose just rocky outcrops and breakwaters that are backing on to the beach road.
Since many Thai owners have second properties in Jomtien, the renovation of the beach area is also expected to boost domestic tourism in the medium and long term.