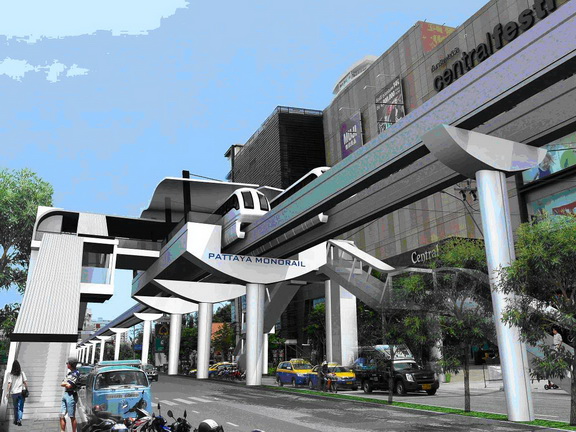 As part of the greater Eastern Economic Corridor (EEC) project, plans are afoot to overhaul Pattaya's key landmarks including Walking Street and Bali Hai Pier, as well as to provide a cruise ship terminal and a monorail system.
Pattaya City Mayor, Sonthaya Khunpluem, was quoted as saying, "Pattaya is the one of the world's most famous tourism destinations which attracts millions of visitors yearly in normal times and has generated a lot of income into Thailand. We are committed to modernizing the look and feel of the area as well as wanting to reassure nervous business owners that leaders are committed to keeping nightlife and entertainment venues a core attraction of the city."
A new cruise ship terminal will enable cruise ship operators to bring their customers directly to Pattaya. There are also plans to connect Pattaya beach with Bali Hai Pier by way of a park area full of green spaces.
For Walking Street, futuristic looking awnings and rain shelters are in the planning stage as well an overhaul of the pavement to make it a more striking design, and safer too. At the same time there is a push to ensure the famous Walking Street keeps its charm, which means ensuring that whilst it will be available as a daytime attraction, it will still be the center for nightlife activities.
Mayor Sonthaya Khunpluem was also quoted as saying, "The development should make the walking street become alive both day and night. Currently, the street looks alive and modern at night but suffers badly during the daytime. We have plans to make the street strongly appealing during the daytime as well," adding, "The redesign needs to be smart and modern as well as aesthetically pleasing."
He concluded, "Moreover, the design should not cause negative effects to people lives and the overall fascination and atmosphere of the neon lights and vibe of Walking Street."
The proposals will be presented for public opinion and discussions are underway with all interested parties. Designs are not final and could be subject to change depending on the feedback obtained.
For the Monorail, the plan to is to connect transport hubs with key tourist attractions and shopping centers using a main line and spurs.
Mayor Sonthaya Khunpluem, was further quoted as saying, "The Pattaya monorail project is part of the overall Eastern Economic Corridor (EEC) work," adding, "The EEC development projects are designed to improve the overall infrastructure in the Eastern part of Thailand and involve multiple individual projects."
Work isunderway to complete an Environment Impact Assessment by the end of September 2020 for the monorail, and for all projects combined to be completed by 2025.