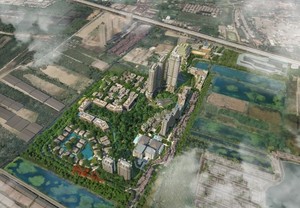 Real Estate Press Releases Thursday May 21, 2020 14:47
Mr Visit Malaisirirat, CEO of Magnolia Quality Development Corporation Limited (MQDC), said that MQDC has experienced rapid growth through its clear project development strategy, especially as a pioneer in large-scale, mixed-use projects, which have met a good response.
MQDC's strategy of project development with global partners, bringing world-class expertise, has made its projects stand out. The company has been able to develop projects with world-class standards, attracting a lot of customers both at home and abroad. All projects have therefore met their targets, enabling the company to register strong growth. The clearest example is ICONSIAM. MQDC is a partner in this icon of Thailand on Chao Phraya River. ICONSIAM includes the high-end condominiums Magnolias Waterfront Residences ICONSIAM and The Residences at Mandarin Oriental, Bangkok, which is managed by the Mandarin Oriental Hotel Group. There is also Magnolias Ratchadamri Boulevard, which hosts the exclusive Waldorf Astoria Bangkok, the first hotel in Southeast Asia from Hilton's most iconic brand.
Another key MQDC milestone is the launch of THE FORESTIAS, which has a project value of THB125 billion. While residential developments currently focus only on value for money and convenient location, this is not enough, especially after the COVID-19 crisis. Quality of life, health, and happiness of residents need to be considered because people are more careful in their lives. For the first time, an extensive forest has been made part of a city project, bringing in nature too. THE FORESTIAS is based on MQDC's philosophy to focus on projects that benefit society and enhance quality of life in line with the concept 'For All Well-Being'.
THE FORESTIAS has been developed as a mixed-use district, with residences, retail space, office buildings, health centers, educational institutions, innovative buildings and space for family learning and creative activities, to suit various lifestyles within a complete natural ecosystem. The residential projects are 'Whizdom' condominiums, 'Mulberry Grove' condominiums and villas, 'The Aspen Tree' condominiums, and 'Six Senses' villas managed by the renowned hotel brand 'Six Senses'.
"We aim to be a leading real estate developer focused on raising the industry's standards to improve quality of life and benefit society under our dedication to 'For All Well-Being'. We focus on research and develop innovations and new approaches by working with world-class partners. MQDC's research and studies are in line with the New Normal lifestyle, after COVID-19, in which more and more people pay attention to details of their lives," said Mr. Malaisirirat.
In the midst of the COVID-19 crisis, MQDC's first priority is the safety of residents in all its project and all members of the organization. MQDC has established measures to ensure safety and peace of mind for everyone, taking care of residents and the organization's members, including operational staff at projects and in MQDC offices and sales units. The company has strict cleaning measures in accordance with the procedures of the Ministry of Public Health and also has safeguards for partners such as construction staff.
During the COVID-19 crisis, MQDC has introduced working from home. MQDC's top executive, Mrs. Thippaporn Ahriyavraromp, Chairman of Magnolia Quality Development Corporation Limited (MQDC), has long had a vision for 'Work Anywhere', for people to work happily and efficiently from any location. MQDC has developed systems and processes to support working from home. In the COVID-19 lockdown, the company has not needed to adapt.
Another focus is effective cost management and MQDC remains focused on continuous product and project development because quality and value creation are already in the DNA of all its project.
"Even in the midst of the COVID-19 crisis, MQDC is still moving forward with confidence in the Thai economy in the long run and in the government's commitment to megaprojects such as the Eastern Economic Corridor (EEC). Most adjustments are to short-term plans rather than long-term objectives. But the sale of existing projects will continue. The efforts of the government and Thailand's health system, which are recognized worldwide, and the globally renowned qualities of Thais including kindness are all among the factors that make Thailand one of the world's most attractive places. After COVID-19, a key factor for foreign investors is safety and the public health system."
"MQDC has already experienced the Tom Yum Kung crisis, which makes us always manage with care. The challenges of the COVID-19 crisis therefore won't stop us from moving forward. These are MQDC's views on doing business amid the lifestyle changes in line with the New Normal," said Mr. Malaisirirat.