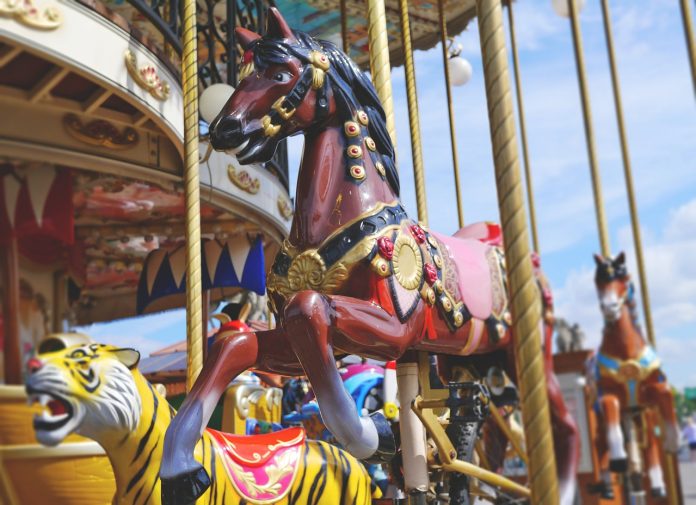 With a fall in new coronavirus cases in Japan, funfairs and amusement parks are getting ready to reopen. However there are plenty of caveats for patrons to be aware of.
One of the most curious is to avoid screaming on roller coasters as this may increase the likelihood of droplets in the air. Of course this is quite a difficult thing to ask of thrill-seekers, since screaming on roller coasters is usually completely involuntary.
As well, ghostly figures in haunted houses will need to keep their distance under new guidelines so as to adhere to social distancing, and queues for rides will also need to be carefully controlled to ensure there is plenty of space between each person.
Staff that may be dressed up as cartoon characters or super heroes will need to ensure they don't attract a crowd, and photo opportunities will be without close contact.
Still, there are plenty of customers who are happy to put up with the new norm, and park operators in Japan are expecting a surge of patrons eager to take advantage of the new openings and of course the summer weather.
More protests in Hong Kong over new laws
Hong Kong is bracing for more new protests as new national security laws are being passed that give greater control to the mainland. Many see this as reducing the city-state's freedoms, which were guaranteed at the time of the handover in 1997.
As a result of the new legislation, The U.S. took steps to revoke Hong Kong's special status. The tensions come at a time when the U.S. and China are at odds over various other matters including the origins of the coronavirus, claims over islands in the South China sea and U.S. stock market restrictions to Chinese firms.
Yet in a recent news conference, President Trump stopped short of announcing either new sanctions or any modifications to the phase one-trade deal that was struck late last year.
Nissan reports largest loss in two decades
Japanese automaker Nissan Motor Company posted a 671 billion yen or 6.2 billion U.S. dollar loss for the most recent fiscal year. It was the company's first loss in a decade, and its biggest loss in the last 20 years.
As a result, Nissan plans toreduce its output by 20 percent over the next four years and to reduce fixed expenses by around 300 billion Yen. It will cut the number of models it produces from 69 to 55, in order to consolidate its manufacturing footprint.
Naoki Fujiwara, chief fund manager at Shinkin Asset Management Co., was quoted as saying, "The numbers might leave a negative impression, but they are taking drastic steps and that's worth noting," adding, "In the post-corona era, you won't be able to survive unless you improve your efficiency."
On a positive note, Nissan's China sales grew a modest 1.1 per cent in April as the country became one of the first to shrug off the pandemic.
Chief executive officer, Makoto Uchida, was quoted as saying, "I will do everything I can to return Nissan to a growth path."