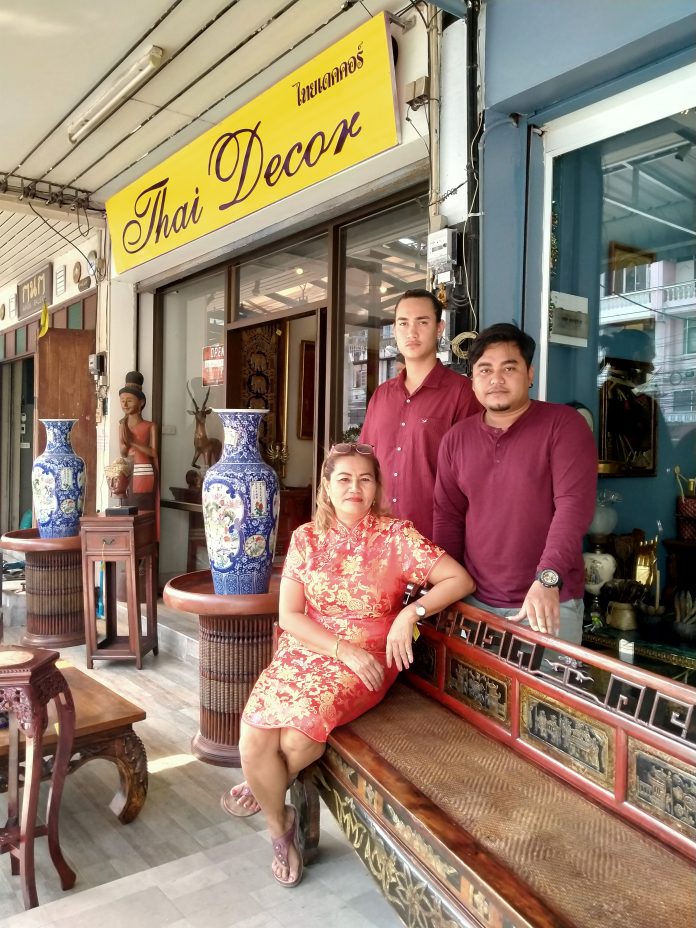 Thai Decor first opened its showroom doors on Thepprasit Road, Pattaya 20 years ago. It soon established an extensive customer base with its vast selection of original antiques and good quality furniture, along with Thai and Asian art and designs.
All the products are original and most are antiques with no reproduction furniture. Prices range from 2,000 to 20,000 Baht.
There's a large selection of sculpture, wooden and marble, lacquer, and silver, and also a wide variety of paintings, all within an affordable price range.
Thai Decor was established by Roger Mynott, whose background is in all things antique with his original business back in the U.K. Roger's expert knowledge when it comes to antiques is a huge contributing factor to the success of Thai Décor, since he knows the products that are genuine and worthy of a place in his showroom.
Recently Roger has taken a back seat in the business due to illness, so his partner, Khun Nok, with her years of experience at the showroom on Thepprasit Road, now runs the day to day operation at Thai Decor along with her two sons.
Thai Decor are now embarking on a major expansion of the business with a new trade warehouse soon to open in Soi Welcome, behind the Index Living Shopping Mall on Sukhumvit Road.
With the extra space available at this location, bulkier antique items can be displayed for the public to view. There will also be a big selection of European furniture from right across the continent.
To celebrate their 20th anniversary Thai Decor are offering a massive 20% Discount on all items in their showroom so now would be a great time to visit them and browse through the amazing selection of furniture, sculptures, paintings, vases, and other items on show there.
Because they have such a huge array of antiques of every description, Thai Decor has something to suit every home, whether it is a condominium or private house.
Thai Decor on Thepprasit Road, Pattaya is open from 10.00 am – 5.00 pm Monday to Friday, and from 10.00 am – 4.00 pm on Saturdays, or indeed by appointment if required.
For appointments and enquiries please phone 081 000 7664 (English) or 087 134 7883 (Thai).
Thai Decor can be contacted by email at [email protected], and their website address is www.thaidecorthailand.com