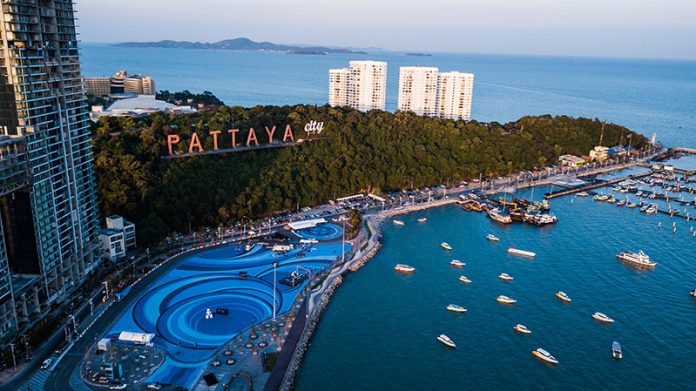 Ranked along the likes of London, Paris and New York, Pattaya has clinched the 15th position worldwide in the Mastercard Global Destination Cities Index (GDCI), which measures the popularity of major world destinations by assessing the numbers of international overnight visitors in over 200 cities.
Indeed Thailand was the only country to have three destinations amongst the top 20 rankings in the index. Bangkok took the top spot for the fourth year in a row whilst Phuket came in 14th position.
In second place globally was Paris, followed by London, and then Dubai and Singapore secured forth and fifth positions respectively.
Pattaya has long been a popular resort and the number of visitors to the famous city by the sea continues to grow, despite facing challenges. Key amongst them is the fact that European and British visitors to Pattaya are declining, but the deficit has been more than made up when considering growth in Chinese, Indian, and other Asian visitors. This is also true for Thailand as a whole.
That said, visitors from Germany made up the highest numbers when it came to island destinations such as Koh Samui, Koh Phangan, Koh Chang and Koh Tao. Visitor numbers to Koh Phangan were growing at a faster rate then other islands.
In Pattaya, hoteliers and other service providers are gearing themselves up to receive more Asian visitors than ever before. The time when European tourists made up the bulk of Pattaya's visitors and expats has largely ended, partly due to demographics, partly due to currency fluctuations and partly due to the increasing mobility of Chinese, Japanese, Korean and Indian visitors.
Europe only accounted for around 16.1 per cent of visitors to Thailand and this included Russia also. Russian tourists did flock to Pattaya but since the Ruble devaluation a couple of years ago, their numbers have dwindled.
The increasing net worth of Asian travellers has allowed them to have both the time and money to come to Pattaya, but the city will likely have to continue to adapt to the new mix of tourists.
China has become the fastest growing and now the largest inbound tourist market for Thailand including Pattaya.
Yet there are many developments in the works to increase the attractiveness of Pattaya to visitors from all over the world. A high speed rail link will undoubtedly make travel to Pattaya seamless and fast, and so it would seem that visitors who come to Bangkok will have much less excuse not to come to Pattaya during their stay.
Restaurants in Pattaya catering to the new influx of tourists have adapted, with Thai restaurants in particular focusing on the cultural food values that Thailand has to offer.
It would seem the future is bright for Pattaya and if numbers continue to grow it could well make it in to a higher position in the worldwide rankings in the future.