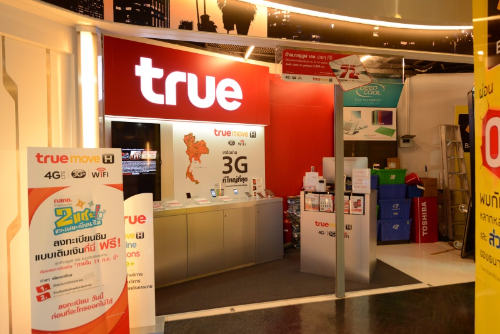 Internet giant True Corporation posted a profit of 1.5 billion
baht in the first quarter of 2019, a marked increase. It was in sharp contrast to a 673 million baht loss during the same period last year. Significant expansion of its cellular network income, in a large part, was behind the stellar numbers.
Kittinut Tikawan, co-president of True, was quoted as saying, "We are pleased to see strong improvement in core earnings and profitability in the first quarter," adding, "This solid performance happened because we prioritized cost and productivity measures and ran targeted marketing campaigns that matched consumers' needs."
Cellular network revenue rose 7.6 per cent year-on-year at a time when competitors were facing a 3.5 per cent contraction. This indicated that True was winning market share at a fast rate.
Mr. Kittinut was also quoted as saying, "True Online maintained its competitive edge in the broadband internet market with value-driven fibre-to-the-home and 1Gbps [gigabit per second] propositions attracting more high-quality subscribers."
True reported that it had 29.6 million TrueMove H subscribers, close to thirty per cent of the total market share, as well as 4 million True Visions subscribers.
Centara Grand Beach Resort & Villas Hua Hin granted a lease extension
The company that owns the 30-year-old Hua Hin landmark that is the Centara Grand Beach Resort & Villas Hua Hin has negotiated an interim one-year extension to its land lease with the State Railway of Thailand (SRT) as talks continue with regard to renewing the contract for the longer term.
The new 2019 Joint State and Private Investment Act that came into force on March 10th 2019 lead to the requirement to draft a new lease agreement. Discussions are expected to be ongoing until September this year.
One of the key caveats is the requirement for investment of 3.2 billion baht to be made to develop the land further.
The resort sits on 71 rai of prime land leased by the SRT
AP Honda mulls price hikes after excise changes
In 2020 new excise tax rates will come into force for
motorcycles based on CO2 emissions, taxing those with a higher CO2 emission at a higher rate.
This is a change from the current structure, which has bands of excise duty for various engine sizes.
Although increases are only slight, Honda expects that excise rates could rise in the range of 0.5 to 3 per cent for vehicles that have 110 to 150 cc engine sizes.
A source was quoted as saying, "The new tax means that for every 10,000-baht increase in retail price, the excise tax will rise 50 baht based on the new calculation for a motorcycle with an engine of less than 150cc," adding, "For example, taxes will rise by 200-250 baht for motorcycles priced at 40,000-50,000 baht."
For some larger motorcycles, excise rates are expected to rise more sharply since these vehicles sometimes have higher emission levels.