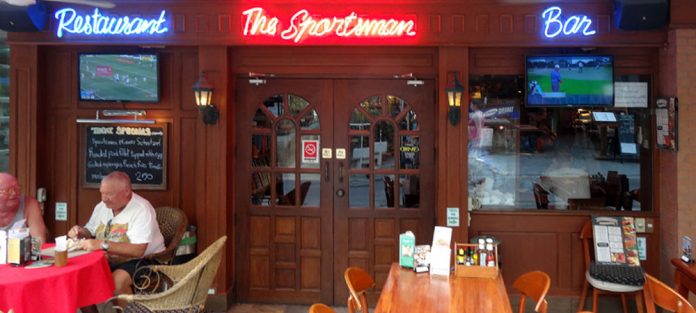 The Sportsman Pub and Restaurant, located in Soi 13, between Beach Road and Second Road, is one of the longest-running British-style bar-restaurants in Pattaya and among a long list of reasons for its success are making sure the food is top quality and portion sizes are more than ample as many regular customers will testify to.
Staff attentiveness, hands-on management, and ambience as well as regular promotions add to its success and it's no surprise it continuous to rate extremely highly on Trip Advisor.
The Sportsman may well be classified as a British pub, but its fare is sufficiently variable that it attracts diners from all corners of the globe and their varied menu reflects this fact.
Along with their selection of traditional favourites, the  menu also includes 'Jumbo Meatballs', bacon wrapped pork and apple meatballs served with mashed potatoes, garden or mushy peas and gravy, 'Pizza Toastie', with salami, cheese, tomato sauce and peppers toasted on white or brown bread and 'Chicken and Pepper Tortilla Wraps' with cheese and ranch dressing to name just a few.
Conscious of the changing world we live in, the Sportsman menu also offers a 'Healthy Option' section to start your day the healthy way include cucumber apple and lime and wheatgrass and pineapple. For all those very hot days a 'Frosties' selection is included with iced cold lime blizzard, pineapple blizzard, melon blizzard and blueberry blizzard.
The Sportsman's new cocktail menu with a buy one, get one free offer is now available to both ladies and men, but only on a Friday after 6:00pm and includes eight different choices from the Bloody Mary to the Singapore Sling.
There are three key days that feature meal specials. On Wednesdays the daily special is a burger and chips, with a San Miguel for just 195 baht, available all day and all night.
On Fridays the food special is an all-you-can-eat pizza, pasta, salad buffet, available between 6:00 and 10:00pm, for just 249 baht per customer.
On Sundays, the all-you-can-eat carvery, long-established, is priced at just 450 baht, available between 12:30pm and 8:30pm. The carvery is often rated among the best in Pattaya with a choice of two soups, five roast joints, a special steak and kidney pie, Yorkshire pudding, and all the other elements that one would expect of a proper British carvery.
On the other four days the pub promotes drink specials. On Mondays the special features pints of Heineken at 99 baht, all day and all night; Tuesdays are pints of Guinness at just 180 baht, again, all day and all night; Thursday's special is Tiger Draught pints for 99 baht and on Saturdays the special is pints of Thatchers Gold draught cider at 160 baht.
Thursday also sees The Sportsman weekly free-entry quiz starting at around 9:00pm. There is a free (Bowmans) pie and chips for all contestants at the end of the fun quiz, and a rollover jackpot question. Everyone is welcome, and you can either set up your own team, or join in with another group.
There is a good quality pool table and now eight large wall-mounted TVs located in good viewing locations showing all sports as well as news channels.
Finally, their outside catering division has been enhanced with special catering packages for any size party. Just visit www.partyfoodpattaya.com for more information.