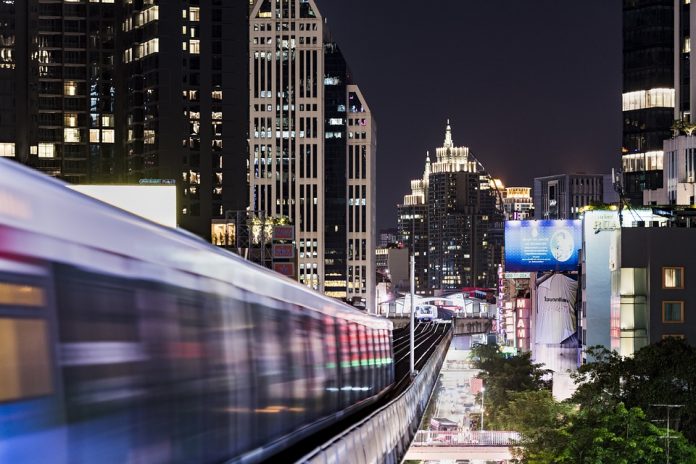 If you have been in the suburbs of Bangkok recently it will have been hard not to notice the massive construction effort underway of several new mass transit lines.
There is fervent building work all the way along Ladprao Road, Ram Intra Road, and along side Viphavadi Road up to and past Don Mueang Airport, as well as construction occurring along the very long stretch of Ramkamheng road as it meanders away from the city center.
Now, as part of the second master plan for mass transit development, the Transport Ministry is looking likely to approve four more mass transit projects later this year. If fully approved it will extend mass transit projects in the suburbs of Bangkok by another 20 kilometers at least.
The four new projects include the monorail Grey line that will connect Rama III road with Ram Intra Road, the Brown Line monorail that will connect Lam Sali with Khae Rai in Nonthaburi and the Gold line from Prajadhipok to Krung Thon Buri BTS. As well as the three lines there will also be a fast boat service from Sam Rong to Pakkret.
The Brown line alone is expected to cost 50 billion baht. Currently it is awaiting approval from the Land Traffic Management Commission (LTMC).
Deputy Transport Minister, Pailin Chuchottaworn, was quoted as saying, "The mass transit system in Bangkok and surrounding areas is key to solving traffic congestion."
After the new lines come in to service, incentives would be offered in order to switch people from cars to the public transport system. After the initial period, use of the new services will likely naturally pick up, as has been seen with previous mass transit lines.
As an example of passenger growth, the existing mass transit network that consists of the Blue Line, Purple Line, Green Line, and Airport Rail Link serve around 1.16 million people.
After the first phase becomes fully operational, passenger numbers are likely to increase to around 1.57 million. The first stage projects are expected to be in use by 2024.
An additional route, called the Orange line, will connect Min Buri to the Thailand Cultural Centre,and isscheduled to be complete by 2024 or 2025.
The river will also become in focus. Catamaran boats will be in service in the future that will help tourism and also be a solution for commuters.
The first route earmarked for catamarans is from the Asiatique to the Phra Arthit pier, with one-way fares expected to be 60 baht and an unlimited daily ticket expected to cost just 200 baht.