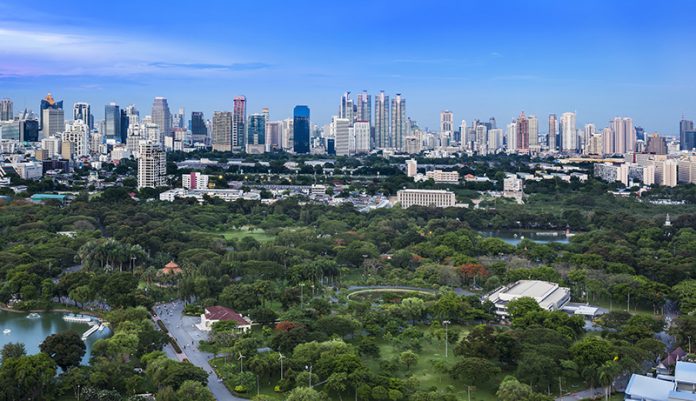 Thailand's government is preparing to set up 30 cities as smart cities, or smart "zones", by the end of this year, and by the end of 2022 to expand that number to 100 cities in 77 provinces.
In a recent forum, smart city criteria and proposal evaluation were discussed but the main thrust of smart city requirements includes smart living, smart mobility, smart economy, smart environment and smart governance.
Technologies such as e-commerce and payment services leading to a cashless society are amongst the progressive goals. For the environment, smart recycling and waste disposal could be brought forward as a smart trait that will improve living standards and also reduce environmental impacts of city life. As well, mass transit systems and other public transport initiatives should help to reduce car use and reduce air pollution.
Other examples of smart living include automation in homes to save energy, a push towards renewable energy solutions to reduce carbon footprints and the use of hybrid vehicles to increase efficiency.
10 cities or "zones" within seven provinces have already started to transform into smart cities. The seven provinces are Bangkok, Chon Buri, Chiang Mai, Chachoengsao, Phuket, Khon Khaen, and Rayong.
Some of these zones are within the EEC corridor and it is noted that there is already a strong push to promote the EEC area as consisting of smart cities. The push has resulted in significant investment and this has created a wealth effect in the region. The plan is replicate this success nationwide over the next 3 years.
A city data platform that will assist with smart city implementation is expected to be in operation later this year. The platform will cover over 100 e-services.
Having smart cities nationwide is a government priority as it will markedly help to reduce income disparity and will ensure wealth is increased for all residents, transforming Thailand into a high-income country.
As for the plan to develop 30 smart cities, strategically located in 24 provinces in 2019, the government is calling on both the private sector and individual government agencies to co-operate on building smart cities in the short timeframe earmarked for the transformation.
The projects take place during the same time that Thailand holds the Chair of the ASEAN block, and it is expected that the best smart cities in the ASEAN area will be showcased, to include several from Thailand.
An event called the Digital Thailand Big Bang will be held from 28 to 31 October 2019 and will cover specifically the transformation ofThailand's cities into smart zones.