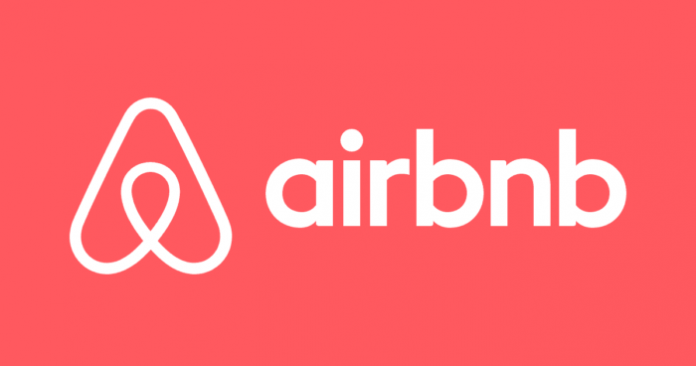 Beautiful homes. Exceptional hosts. Verified for quality.
Thailand, November 23, 2018 – Airbnb, the world's leading community-driven travel platform, today welcomes its next stage of growth in Thailand with the launch of Airbnb Plus in Bangkok. Come December, Airbnb Plus will also be available for booking in Phuket, Asia's number one resort destination.
Airbnb Plus is a selection of homes of the highest quality offered by hosts with great reviews and attention to detail. As travellers look for more unique stays based on  trusted recommendations by peers and key influencers, every Airbnb Plus home has been verified for quality by a third party, giving added assurance to guests about the quality of their stay.
Southeast Asia, Hong Kong and Taiwan's Country Manager Mike Orgill said, "Airbnb Plus was introduced to broaden the appeal of Airbnb and recognize local hosts who go above and beyond to provide outstanding and authentic hospitality. We're thrilled to be launching this new tier of homes in Bangkok and will roll out in Phuket next month. With more than 400 million global guest arrivals, our engagement with our hosts have allowed us to continuously improve our product and launch Airbnb Plus homes, now personally verified for all the comforts and amenities we know travelers expect in a home."
Starting with 43 homes across some of Bangkok's most sought after neighborhoods, Airbnb Plus is intended for guests looking for one-of-a-kind, thoughtfully designed, beautiful homes with exceptional hosts. Airbnb Plus hosts are highly rated (4.8+ out of 5) and receive excellent reviews, providing added peace of mind for guests. Airbnb Plus homes have been inspected and verified in person by a third party against a 100+ point checklist covering cleanliness, comfort and design. Hosts can benefit from top placement on Airbnb's app and website, in-home services, expert photography and premium customer support.
Lydia Sarunrat Deane (@lydiasarunrat), Thailand celebrity and influencer, shared more about her experience staying in an Airbnb Plus listing in Melbourne. "Our family had an incredible time staying in a Plus listing in Melbourne. It was well designed, complete with amenities where my son had a lovely time exploring the space! Our Airbnb host also went above and beyond, where he was welcoming and provided local recommendations we would not have been able to research online. I'm so excited that Plus has launched in Thailand." Check out some of her favourite Plus listings in this Airbnb Wishlist.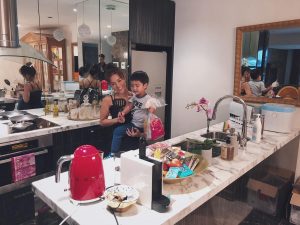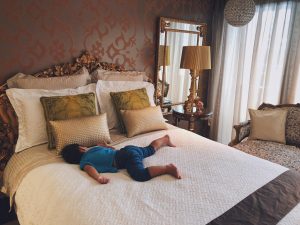 Thailand is an important and fast growing market for Airbnb with nearly half a million Thais using the service to travel in the past year alone. With the peak travel period in December, Airbnb Plus is a great option for Thais travelling as a couple or with families. Thailand is one of the most popular destinations with more than 1.5 million inbound guests in the past year, showing that people from all over the world are using Airbnb to explore and experience Thailand.
The launch of Plus continues to drive local momentum and it's also off the back of Airbnb's success in launching Experiences across the country and developing key strategic partnerships with the Thailand Boutique Accommodation Trade Association (TBAA) and the Thailand Ministry of Interior's Department of Local Administration (DLA).
Airbnb has always been about transforming the way people travel by allowing them to live like locals. With Airbnb Plus, Airbnb takes this a step further, adding a new tier of homes verified for quality and comfort.
Airbnb's global creative community is quickly growing. In a recent survey, we found that one in 10 Airbnb Home hosts identify themselves as part of the creative community. Here are some newly launched Airbnb Plus that you can book in Thailand: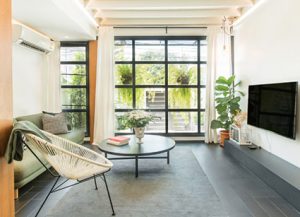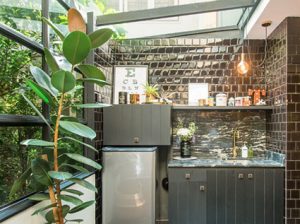 Architect Renovated House near Chatuchak Market
https://th.airbnb.com/rooms/plus/22185668
This  family home is well-designed with the passion and love for hospitality. The host, Pummaree, will make breakfast for his guest every morning, where they can relax under their favourite spot – the glasshouse.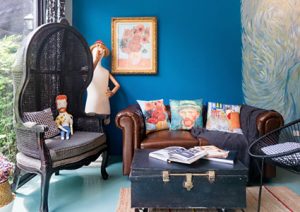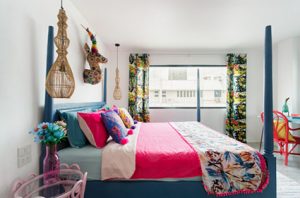 Artistic and Quirky Home with a Copper Bath and Breakfast
https://th.airbnb.com/rooms/plus/26797418
Get creative at this inspiring, art-filled space in the city's buzzing hip Thonglor district. From Andy Warhol, Vincent Van Gogh, Frida Kahlo to personal pencil drawings, this home is bursting with artistic charm. Bright tones blend with statement bathtubs and balconies.  Most of furniture and decoration items are handmade and personal import collectibles.
In fact, it's one of Lydia's favourite listings – as colourful as her most recent music video.

Charming Private Garden Villa by the Canal in Bangkok
https://th.airbnb.com/rooms/plus/11593131
Thanut, an esteemed photographer, welcomes you to soak up the peaceful ambience of this wooden retreat by the water and admire the contrast to the action-packed city nearby. Kick back on the modern mustard sofa with a magazine, or gather for a relaxed dinner on the covered outdoor terrace.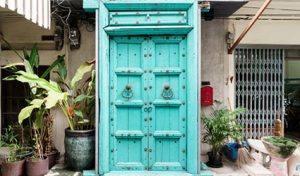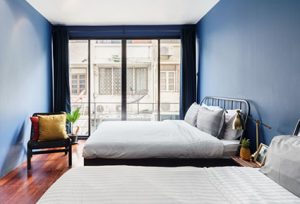 Stroll to Thong Lo BTS Station from a Blue-toned Townhouse
https://th.airbnb.com/rooms/plus/26419904
The first thing you'll notice is an aqua-blue antique door, providing a refreshing feeling as you seek reprieve in this contemporary townhouse in shades of blue. Spend your afternoons curling up on the modern tan leather sofa and watch the world go by.
About Airbnb
Founded in 2008, Airbnb's mission is to create a world where people can belong through healthy travel that is local, authentic, diverse, inclusive and sustainable. Airbnb uniquely leverages technology to economically empower millions of people around the world to unlock and monetize their spaces, passions and talents to become hospitality entrepreneurs. Airbnb's accommodation marketplace provides access to 5+ million unique places to stay in more than 81,000 cities and 191 countries.
With Experiences, Airbnb offers unprecedented access to local communities and interests through 15,000 unique, handcrafted activities run by hosts across 1,000+ markets around the world. Airbnb's people-to-people platform benefits all its stakeholders, including hosts, guests, employees and the communities in which it operates.
Media Contact
Infinity Communications
Duncan Worthington, Tel: +66 (0) 81 893 4006
Chanut Nawnarong, Tel: +66 (0) 92 554 4149
Email: [email protected]
Background Information
Our Airbnb Community in Thailand: Key Milestones 
March 2017 – Airbnb Launches Experiences in Bangkok

Experiences are designed and led by local experts who share an insider's view of their city with curious travelers, giving unprecedented access to areas and places that people wouldn't otherwise see. Today, we have close to 100 Experiences in Bangkok, and some of our Bangkok hosts are on track to make more than US$70,000 per year hosting an Airbnb Experience.

Feb 2018 – Airbnb Unveils Roadmap to Bring Magical Travel to Everyone

Airbnb launches in Thailand four new property types (Vacation Home, Unique, B&B and Boutiques), new tiers (Airbnb Plus and Beyond by Airbnb) and Airbnb Collections (homes perfectly suited to every occasion).

April 2018 – Airbnb Launches Global Office of Healthy Tourism

The 'Office of Healthy Tourism' is a global initiative to drive local, authentic and sustainable tourism in countries and cities across the globe. We announced the creation of our new Tourism Advisory Board, and latest 2017 Thailand data – 1.2m inbound guests from 185 countries, 400,000 outbound guests, typical host income of USD2,100 (THB67,000) from renting out their space 29 nights a year.
June 2018 – Airbnb Launches Experiences in Chiang Mai and throughout Thailand

Airbnb launches Experiences in Chiang Mai, one of its fastest growing markets in Thailand, and aims to continue to support the creative and cultural capital as an ever-popular global travel destination. In a panel discussion with the Thailand Community Based Tourism Institute (CBT-I), Creative Chiang Mai and Chiang Mai University, Airbnb reinforced its commitment and support for Chiang Mai's hospitality entrepreneurs and the local Thai community.

June 2018 – Mekong Tourism Forum 2018

Airbnb announces new data showing how the platform is supporting healthy tourism in the Greater Mekong region — including how we are welcoming 5 million visitors and generating US$1.67bn for local economies.

July 2018 – Airbnb Announces 'Empowering Local Tourism Entrepreneurs' Partnership with Thailand Ministry of Interior's Department of Local Administration

Airbnb and the DLA will work together to train local provincial officials across all 76 provinces on hospitality, hosting and compliance standards, and onboard existing homestays onto Airbnb's global platform.
September 2018 – Airbnb Partners Thailand Boutique Accommodation Trade Association

Airbnb announced its industry-first partnership with the TBAA to promote creative, people-powered Thai hospitality, andl bring boutique hotels onto Airbnb's global people-to-people platform and connect them to its international network of travelers, which has seen more than 300 million guest arrivals since it was founded 10 years ago.