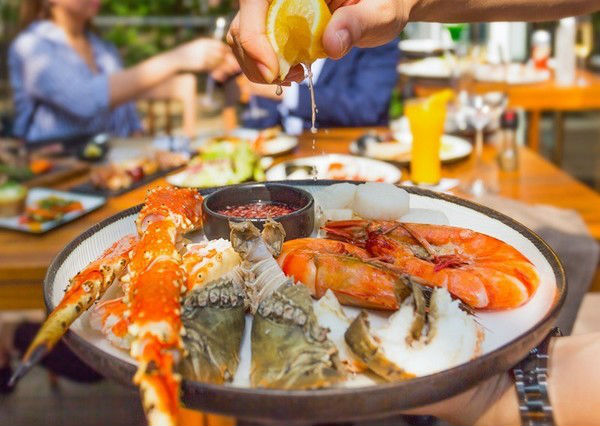 General Press Releases Monday May 21, 2018 11:39
Bangkok–21 May–137 PILLARS SUITES & RESIDENCES BANGKOK
If it's the last Sunday of the month, then it is time to get your closest friends and family together and head to 137 Pillars Suites & Residences Bangkok on Sukhumvit Soi 39 to celebrate the end of the month with an almighty feast!
The hotel, a member of Small Luxury Hotels of the World, is offering a free flow of bubbles, red and white wine from Australia's world-famous Yalumba winery together with sumptuous food of the highest quality such as scallops, crab, lobsters, oysters, wagyu beef, lamb, foie gras, tuna, salmon and so very much more.
Yalumba is one of Australia's oldest and most celebrated wineries. Located near the town of Angaston in the Barossa Valley wine region of South Australia, Yalumba's first grapevines were planted in1849 and the first wine produced in 1853. The family owned winery is also one of only four wineries around the world to have its own cooperage, highlighting the family's dedication to the craft of winemaking.
Mr. Bjorn Richardson, General Manager, 137 Pillars Suites & Residences Bangkok, said, "Today many of us spend too much of our valuable time absorbed in work, looking at our laptops, mobile phones and other devices. It is vital that we, as social beings, do not forget how important those closest to us are. Spending time with friends and family are the most precious of moments, and where better to spend time together than over some of the finest food and wine available on a relaxing Sunday afternoon at Bangkok Trading Post."
The perfect brunch experience would not be complete without some music to add to the fun and family-friendly ambiance, and a live band will be performing on the mezzanine level of the restaurant.
Brunch at Bangkok Trading Post will take place on 24 June, 22 July, 26 August, ?30 September, 28 October, 25 November and 2, 9 and 16 December between 12 noon and 3 p.m.
The price of the Brunch at Bangkok Trading Post is THB 2,900++ per person. There is a 50% discount for children aged between 6 and 12, and those under the age of 6 can enjoy the brunch with their parents free of charge.
As space is limited, be sure to book your table at Bangkok Trading Posts' monthly feast well in advance.
For more information and reservation enquiries, please contact 137 Pillars Suites & Residences Bangkok
Tel: +66 (0) 631876209
Email: [email protected]
Website: www.137pillarsbangkok.com