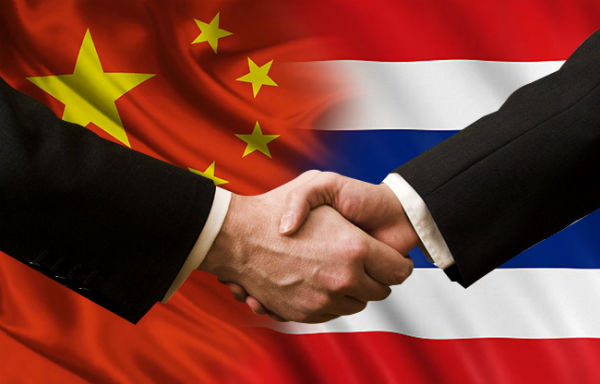 According to a report called "China12: China's Cities Go Global", prepared by property consulting experts JLL, Bangkok is increasingly becoming a destination of choice for mainland Chinese companies. The report comprised three separate indices, "real estate investment", "corporate footprint" and "office leasing activity".
Out of all the overseas cities that Chinese companies have leased property in over the last three years, Bangkok came in at 3rd place ahead of Sydney and Moscow. In terms of providing a corporate footprint Bangkok came in at 10th place with Singapore, London, Tokyo and New York topping the list.
Jeremy Kelly, director of global research at JLL, was quoted as saying, "The China 12 are home to a growing group of highly dynamic and ambitious new generation firms that will drive the next wave of globalization," adding, "We're already seeing a higher number of domestic brands, both established firms and startups, enter the international market, with key targets in South and Southeast Asia."
Chinese companies are becoming more and more internationalized and the spread of mainland corporations to global cities is good evidence of this. Most corporations increase their footprint by acquiring overseas companies or by making investments in technologies that will lead to expansion in the target countries.
Chinese corporations cannot be underestimated in terms of their size. The size of Tencent, Baidu and Alibaba are starting to become comparable to Facebook, Google and Amazon. As well, hardware manufacturers ZTE, Huawei and Lenovo are strong competitors to major US and European brands. Indeed ZTE has hit the headlines with the U.S. President intervening in current issues with the company.
In terms of direct real estate investment New York heads up the list, indicating possibly the higher prices of commercial property in the city. London, Sydney and Tokyo rounded out the next 3 spots also with high property prices. Bangkok was not in the top ten for that index, possibly due to lower real estate prices but also due to the fact that leasing is the more likely route to the commercial property market, evidenced by Bangkok's high position in the leasing index.
Asian cities including New Delhi, Seoul, Singapore and Tokyo also feature in the top 10 spots for all three indices.
Mr. Kelly was also quoted as saying, "We've seen some of China's most prominent firms show major interest in startups in India, Indonesia and Singapore as they seek to gain a foothold in these booming economies. E-commerce and consumer electronics firms, in particular, are starting to gain strong market shares in some of these markets."
Many Asian cities are expected to benefit from the increased interest of Chinese corporations with Bangkok likely to climb higher in the indices in future.