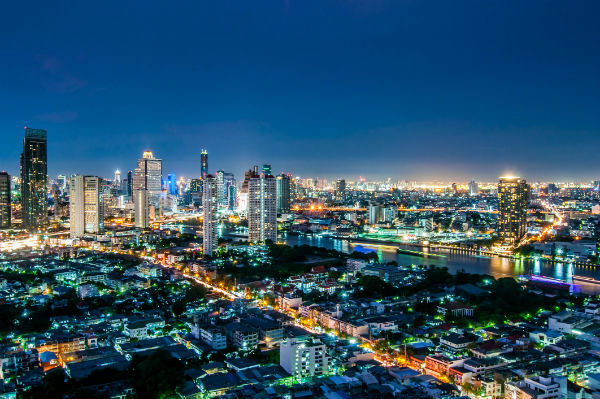 According to real estate consulting firm JLL, interest in the Bangkok office sector on the part of foreign investors is high as they are keen to snap up Grade-A and other commercial office space based on increased rental returns and low supply. The investors typically come from the U.S. or Middle East as well as China and Singapore, and have a budget of between 3 billion and 10 billion baht to invest in office buildings. The yield on offer in Bangkok outperforms other cities in Asia providing up to 7 per cent against only 2 to 3 percent in Hong Kong or Tokyo.
Managing director of JLL Thailand, Suphin Mechuchep was quoted as saying, "Too small a scale may not be attractive for them as it is not worth the investment," adding, "The size of a building should be 27,000 to 90,000 square meters, while the central business district locations and grade A property are their main focus. Mixed-use is better."
There are many ways in which office building owners in Bangkok can generate high yields from relatively low investment capital.
Suphin Mechuchep was also quoted as saying, "With attractive yields and rising rents, no office landlords want to exit at the moment," adding, "They also have other options like selling to a real estate investment trust where they can own one-third."
New buildings have been slow to come to market with only two new buildings completed in the last quarter providing a relatively small 36,141 square meters of office space. These were already occupied by their owners with the 30,000 square meter Krungsri Ploenchit Tower on Ploenchit Road becoming the new headquarters for Bank of Ayudhya and the 6,141 square meter Chia Thai building, close to BTS Bang Chak station, already owned by Charoen Pokphand Group.
Thus the new free supply in the market was effectively zero, underpinning the supply crunch occurring currently. Total stock of office space stands at approx. 8.9 million square meters, with only an 8.7 per cent average vacancy rate, the lowest rate for 23 years.
New absorption in the last quarter came in at 83,208 square meters indicating rising demand for both grade-A office space and also non-prime buildings. It appears there is a stronger demand for grade–A buildings with the vacancy rate in this sector standing at just 6.1 per cent, lower than the overall market average.
Recently completed buildings were occupied very quickly as it seems that a newly built Grade-A office building is becoming a rarity of late. Grade-B and Grade-C buildings saw their vacancy rates drop to just 9.7 per cent, also a long-term low.
Rental rates are likely to rise between three and five per cent over the coming years as demand continues to be healthy.