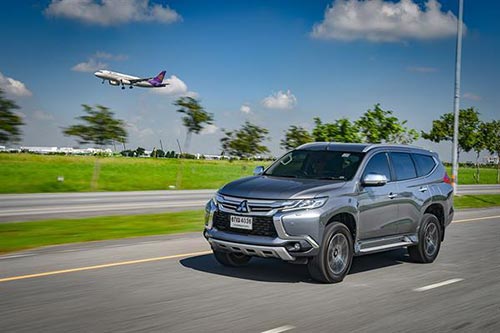 Automotive Press Releases Thursday March 29, 2018 13:30
Bangkok–29 Mar–Mitsubishi Motors
Mitsubishi Motors (Thailand) Co., Ltd.'s product lineup has each won a car-of-the-year award from the organizers of the 39th Bangkok International Motor Show 2018. The awards were for Mitsubishi Pajero Sport 2.4L 4WD (Best PPV Diesel 4WD under 2,500 cc), Mitsubishi Mirage (Best Fuel Economy Eco-Car), Mitsubishi Attrage (Best Eco-Sedan) and the Mitsubishi Triton (Best Ride-Quality Pickup).
Speaking at the award ceremony, Mr. Morikazu Chokki, President and CEO of Mitsubishi Motors (Thailand) Co., Ltd. said, "The awards underline our new global brand strategy 'Drive Your Ambition'. With a complete line-up of award-winning models, our products are more desirable than ever, and our drivers will want to drive their ambition with us."
Other Mitsubishi Motors Thailand executives at the event included Mr. Egathi Rattana-Aree, Executive Vice President of Domestic Sales Unit and After Sales Unit; Mr. Sarote Maartlert, Corporate General Manager, Office of Sales; Mr. Yodchai Suewatanakul, Corporate General Manager, Office of Marketing Communication. The event was presided by Mr. Pasu Loharjun, Permanent Secretary, Department of Industrial Promotion, Ministry of Industry, Thailand. The awards were presented by Mr. Anothai Eamlumnow, President of 2018 Car & Bike of The Year Awards together with Dr. Prachin Eamlumnow, Chairman of the 39th Bangkok International Motor Show and Mr. Jaturont Komolmis, Vice President of Bangkok International Motor Show participating the ceremony.
Mitsubishi Pajero Sport is acknowledged to be one of the most fully-equipped PPV in its segment, while Mitsubishi Triton combines an impressive ride-and-handling quality with superior off-road capabilities. Both models are equipped with Mitsubishi Motors' advance four-wheel-drive drivetrain. Meanwhile, the Mitsubishi Attrage and Mitsubishi Mirage are also acknowledged to be one of the most technologically-advanced city cars. Both models come with superior electronic aids and active and passive safety technologies, some of which are only available in vehicles in more upmarket and expensive segments.
Mitsubishi Motors (Thailand) Co., Ltd., the largest plant in the MMC group and an export hub to more than 120 countries, is one of Thailand's leading automotive manufacturers committed to produce and sell a range of vehicles that are eco-friendly, high in quality, performance, safety, comfort, technology and customer satisfaction. In 2015 MMTh celebrated a total production of four million units. MMTh's current range of vehicles includes the Mitsubishi Triton pickup truck, Mitsubishi Pajero Sport PPV, Mitsubishi Attrage and Mitsubishi Mirage city cars. To ensure the highest quality, MMTh uses its proving ground in Sriracha, Cholburi to assess products from design and prototype stages to pre-production and commercialization. This ensures customers take delivery of vehicles that are second-to-none in all aspects of quality.