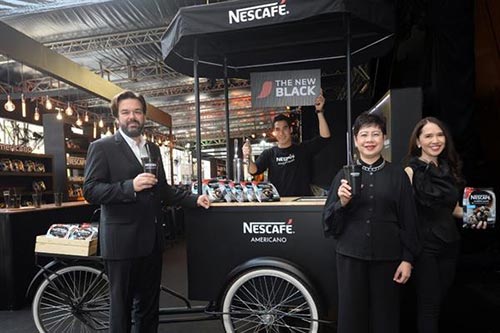 Business Press Releases Thursday March 15, 2018 14:24
Bangkok–15 Mar–ABM
NESCAFÉ, the world's favorite coffee enjoyed by generations of Thai consumers for over 40 years, is shaking up the 14,000-million-baht Thai coffee mixes market with its latest product innovation – New NESCAFÉ AMERICANO, The New Black, specially designed for the cool and modern generation of coffee drinkers. New NESCAFÉ AMERICANO is the world's first cafe-style black coffee mix from NESCAFÉ. It's blended with finely-ground roasted Arabica coffee using NESCAFÉ's unique proprietary technology to bring smoothness and a superior taste & aroma to your cup. New NESCAFÉ AMERICANO is soluble in cold water, so it's easy to prepare in an iced cup, which is perfect for the summer, as well as a hot cup. It also has low calories, with only 35 kCal per stick, and is certified with the Healthier Choice logo, which means coffee lovers can enjoy New NESCAFÉ AMERICANO without worrying about sugar content and total fat. NESCAFÉ will implement an integrated marketing campaign and point-of-purchase materials to launch New NESCAFÉ AMERICANO, aiming to make it the new black coffee choice for the new generation.
Iced coffee has become tremendously popular over the past few years. The new generation of coffee drinkers are seeking a cool new experience and a healthier cup, especially iced Americano coffee, which is the perfect choice for the hot summer.
According to recent social listening, iced Americano is the type of iced coffee most talked about by Thailand's online community. In addition, data from Google Trends shows interest in Americano Coffee has grown significantly since last year, as more and more people search for the term. Research on Thai consumers' coffee consumption revealed that 1 in 5 Thai consumers now drink black coffee. Thai coffee lovers prefer the intense flavor of real coffee, which makes them feel more refreshed. Iced coffee consumption is also a rising trend, doubling from 20% to 40% over the past two years, and an increasing number of Thai consumers want to make the perfect iced cup at home.
According to Mrs. Audrey Liow, Chairwoman and Chief Executive Officer of Nestle Indochina, "Today, we proudly introduce The New Black to Thailand's coffee market with our latest product innovation – NESCAFÉ AMERICANO. We call NESCAFÉ AMERICANO The New Black as it represents a trendy black, iced cup with low calories, which the young generation is looking for.The launch of New NESCAFÉ AMERICANO truly reflects the Nestle purpose of enhancing quality of life and contributing to a healthier future by offering a healthier and tastier choice to the new generation of coffee drinkers."
"A Product Guidance Test by Ipsos showed that New NESCAFÉ AMERICANO scored higher than a leading local cafe chain, with an impressive score of 71% versus 29%.I am very confident that New NESCAFÉ AMERICANO will be the new black coffee choice, and will reinforce NESCAFÉ's position as the favorite coffee brand in Thailand and around the world," said Mr. Vladislav Andreev, Business Executive Officer – Coffee and Creamer Business Unit, Nestle (Thai) Ltd.
New NESCAFÉ AMERICANO is now available in a 25-stick pack for 99 baht and an 8-stick pack for 39 baht at leading convenience and retail stores nationwide.