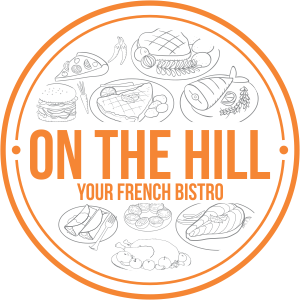 A new Bistro in town
"On the Hill Bistro" manages to combine a fine dining experience with comfort food, perfectly. The theme is French and international cuisine and their aim is to offer the best dishes at affordable prices. The bistro considers "homemade" to be a must. It makes its own pasta, jam and sausages and anything else that can be homemade is made on the premises.
"On The Hill Bistro" is located on the ground floor of New Nordic Marcus 2, in Pratumnak soi 4. If you are coming from central Pattaya, take the Thrappraya road towards Jomtien beach, but before arriving at Jomtien, turn right at the top of the hill. From there it is quite easy to navigate to soi 4 and the New Nordic Marcus 2 building is quite distinctive as the balconies of the building are coloured in a pleasant yellow colour.
The Bistro is located on the ground floor and is nicely appointed with rustic brickwork, archways and classy lighting. Both indoor and outdoor tables are available, as well as a nice bar with high back chairs for dining or enjoying a drink.
Breakfast at "On the Hill Bistro" makes for a great way to start the day. The breakfast menu includes such choices as smoked salmon with dill scrambled eggs complete with an asparagus linguine berry on toasted baguettes at 250 baht, and the Scandinavian Breakfast, which consists of boiled eggs with mustard, hash brown, smoked salmon and salad at 220 baht.
The obligatory "big breakfast", also at just 220 baht, is featured on the menu, which provides hungry diners with 2 eggs in any style (poached, scrambled or fried), smoked ham, homemade pork sausage, bacon, baked beans, fried tomato and a finely cut hash brown. The baked beans come in their own little dish so as to keep them separate and the sausages are superb.
For a lighter start to the day, made to order omelettes are also available that include a vegetarian variety at 120 Baht, containing mushrooms, onions, tomatoes and peppers.
Breakfast is served from 7am to 11am and you can request extra sides to add to your main choice.
For lunch and dinner, the main menu along with the many specials from the chef can be seen on a couple of large chalk boards which are artistically written in their own right.
For appetisers, check out the fried calamari with coriander, chilli garlic chips and lemon mayonnaise at 170 baht, or the chicken liver pate with green olive tapenade and toasted baguette at a very reasonable 130 baht.
For main course, the crispy pork belly with lemon and chive mash and a red pepper coulis at 320 baht looks almost too good to eat. Also look out for the grilled Barramundi at 380 baht, which is served with crispy onion mash, wilted greens and puttanesca sauce. Then there is the homely burger, also at 380 baht, a towering feast that comes with bacon, caramelized onions, cheddar cheese, tomatoes and a fried egg complete with Thousand Island dressing.
As for dessert, a delectable choice awaits. Choose from crème brule at 120 baht, Scandinavian pancakes with strawberries, blueberries and ice cream at 160 baht, profiteroles with vanilla ice cream and chocolate sauce at 220 baht, or the hard to resist sticky toffee pudding at 130 baht.
Opening hours are 7am to 11pm every day and there is a 20% discount off the total bill for Orange Privilege Card (OPC) members. Well worth a visit!