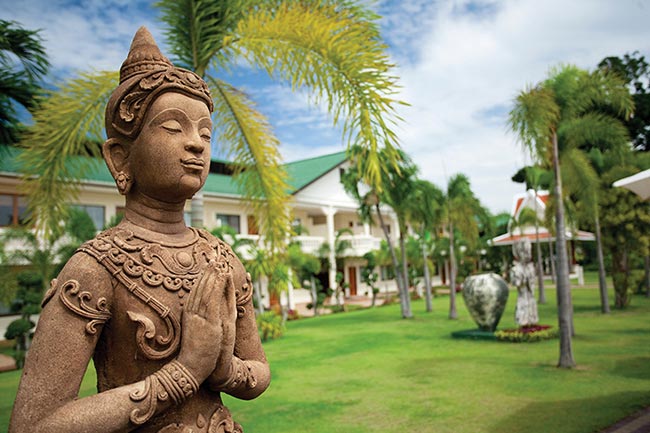 The Thai Garden Resort is one of Pattaya's gems, a hotel in a central location along North Pattaya Road and therefore close to everything Pattaya has to offer, yet an absolute oasis of peace and tranquillity.
The spacious, open-air Lobby is the perfect traditional Thai welcome for guests, with beautiful orchid arrangements and original applique murals created by artisans from Chiang Mai. The immediate impact is of Thailand 'as it used to be' for those lucky enough to recall a time like that. Considering the Thai Garden Resort opened back in 1988, when Pattaya was still very much in its growing phase, it's perhaps no surprise it has retained that sense of time past. The service is friendly and gracious, a great start to your vacation.
The hotel is extremely spacious at 25,000 square metres, with beautifully kept tropical gardens a main addition to the relaxing atmosphere. The exotic flora includes the impeccably kept Koi trees and foxtail palms, which offer welcome shade for the rooms and walkways. Classical Thai statues are tastefully displayed throughout the entire resort.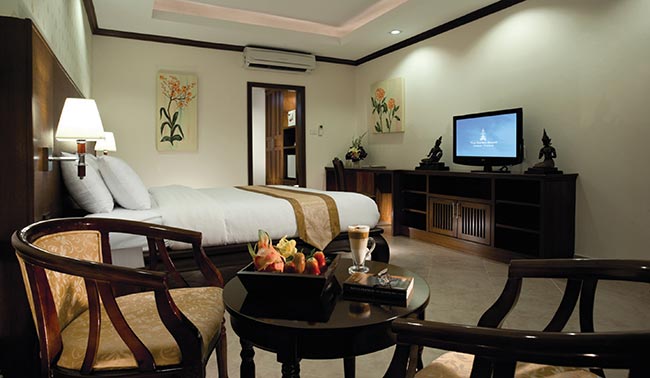 The hotel comprises 228 rooms, with no buildings higher than two storeys, which is perfectly in line with the intimate comfort of the hotel. The rooms are 35 square metres, with a flat screen TV with 60 channels. The in-room safe is spacious, enough for a laptop.
The minibar is empty, except for complimentary bottles of water, so you can buy your own drinks and not be slapped with a big bill at the end of your stay.
The bathrooms have a rain and a hand held shower and consumables such as a toothbrush, shampoo, and hair dryer. There are also apartments at 49 square metres, with a living room area and extras such as a DVD player.
The hotel also provides free hi-speed wi-fi Internet, unlike many others in Pattaya which still charge for such service.
The Thai Garden prides itself on the fact their guests really do appreciate 'the personal touch' for which the hotel is known.  They have an exceptionally high level of customer satisfaction on websites such as Trip Advisor which so many people use these days before choosing their destination. Many of the 160 staff have been with the hotel for a long time, even some from the opening almost 30 years ago.
When the hotel was completely renovated a few years ago it was with a special emphasis on the environmental side of things.  They made a very significant long-term investment in solar panels which provides the hot water to the rooms. The hotel continues this policy throughout, for example, cutting out unnecessary packaging.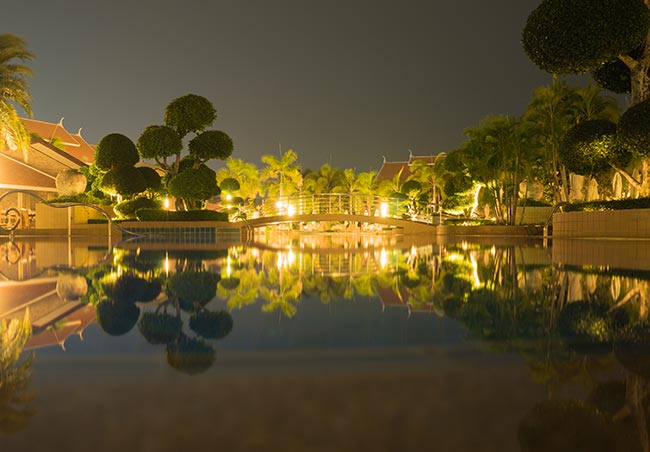 Without doubt, the social heart of the resort is the beautiful pool area. The pool is 63 metres long and encompasses jacuzzi areas, foot massage, various other stimulating water features and a separate children's pool. The pools use a salt water chlorination system.
There are ample sunbeds, each with a service button connected to the poolside bar.
There is a nightly all you can eat buffet at the Thai Garden Terrace Restaurant with different cuisine, from international, BBQ, Steaks & Skewers and Roasting Pig with all the trimmings for only 399 baht Nett, no ++! – representing great value for money. And for families children under 12 years eat for 199 baht nett, with infants under 4 free! The buffet runs from 6.00 p.m. to 9.00 pm every evening.
There is also a three-piece strolling band from the Philippines to play your requests at your table.
By October of this year, the Thai Garden Resort will have a new neighbour close by, in the form of the Terminal 21 Shopping Mall, which will also be a great new addition to the Pattaya landscape.
The Thai Garden Resort is located on the North Pattaya Road, and for more information please call 038 370 614; email: [email protected] or visit their website at www.thaigarden.com