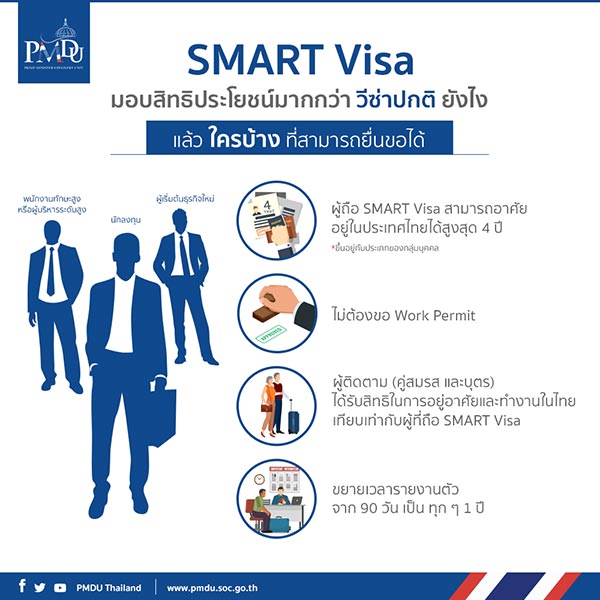 Living in Thailand long term if you are not over 50 or married to a Thai national can be tricky and until now there has not really been a viable option for those not employed by a Thai company.
Recently Thailand introduced the smart visa which is a 4 year visa available to individuals who meet certain criteria allowing them to live and do business in Thailand without the restrictions which usually apply for most of us.
Why has this been introduced?
Over the past few years, location independent living has started to become a more normal practice amongst many people of working age who are living the 'laptop lifestyle' and either working online or getting paid to travel the world.
Chiang Mai is a hub for Digital Nomads with thousands of new arrivals every year but sadly just as many departures as many of these travellers who have money in their pockets to boost the Thai economy are unable to find a visa which will allow them to stay here long term.
Who will be eligible for the smart visa?
Although the smart visa is also known as the 'digital nomad visa', individuals require a very specific set of skills in order to qualify.
There are 10 specific areas which the Thailand Board of Investment is hoping will drive the Thai economy forward in to the future and one of these areas is digital.
For clarification purposes Digital includes:
Cloud Computing
Consumer Insight Analytics & Data Centers (Cloudflare, one of the world's largest content delivery networks now has a data center in Bangkok).
Creative Media & Animation
Cyber Security
E-Commerce
Embedded Software
Enterprise Software & Digital Content
Internet of Things: Enabled Smart City
Many Bangkok property developers are now embracing the internet of things and recently jobs have been advertised in Thailand for System Integrators specialising in the Internet of Things. Smart Homes will become 'the norm' in developed areas of Thailand within the next decade.
This visa was introduced on 1st February 2018 and the exact process is yet to be confirmed. However, it is known that the application process is expected to take around 30 days and must be approved by the BOI, the National Innovation Agency, the Digital Economy Promotion Agency, the Ministry of Foreign Affairs & other agencies.
More details will follow when the procedure to obtain this visa is released.