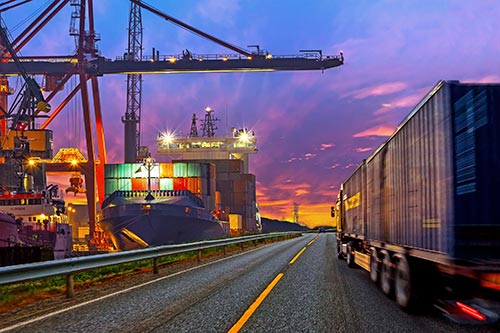 It was in April 2016 that the wheels well and truly fell off the export marketplace for Thailand, but since November of that year the world economy and Thai government policies have helped to turn those dark days around.
Now, the Commerce Ministry is forecasting an initial six to 6.5 percent growth target for exports during 2018. This would mean around 8.2 trillion baht in income from exports (around US$250 billion). Much of this growth is likely to come from the continuing recovery of the world economy in general and the expected weakening of the Thai baht vis-à-vis the US dollar.
Nonetheless, this growth projection will be lower than the 10 percent export growth which Thailand experienced in 2017. That growth was the highest in six years.
The director-general of the Commerce Ministry's Trade Policy and Strategy Office was quoted as saying the forecast of rising exports is in line with the estimates made by the World Trade Organisation (WTO), which has said world export growth would reach 9.2 percent this year.
The director-general said the forecast was based around the global oil price being in the range of US$50-60 a barrel and the Thai baht worth between 33 and 35 to the US dollar.
Currently the monthly value of exports from Thailand to the world average between $18-19 billion a month, but in order to reach the 6-6.5 percent growth target the country will need to hit the equivalent of $20 billion a month.
Exports totaled $217 billion in shipments between January and November 2017, up 10 percent year-on-year and the Commerce Ministry was gratified to see this growth was achieved across all sectors and was not confined to just a handful.
Just in November exports rose by 13.4 percent to $21.4 billion, and this marked the seventh consecutive month featuring a double-digit rise.
Breaking the numbers down, rice exports reached 1.5 million tonnes during November, a new monthly record, while agriculture and processed agriculture shipments saw sharp rises as well. Other food products showing significant rises included cooked chicken, vegetables, fruits and sugar.
Industrial exports rose for the ninth consecutive month, particularly shipments of rubber products and auto parts.
On the negative side, exports of tapioca products fell by 10.1 percent in November.
Imports in the first 11 months of 2017 reached $203 billion, up 14.5 percent year-on-year, thereby giving Thailand a trade surplus of $14.2 billion.
The Commerce Ministry will be releasing an updated export target during February.