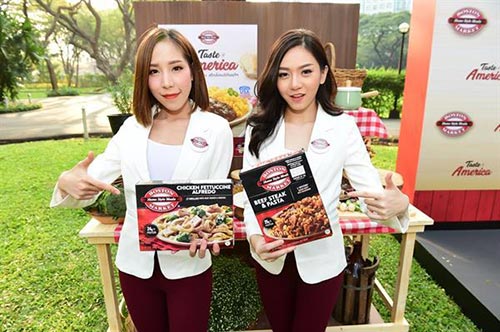 http://www.thailand4.com/.biz/2018-01-19/1efcce1691888f89f099888bfa526f97/
Business Press Releases Friday January 19, 2018 09:05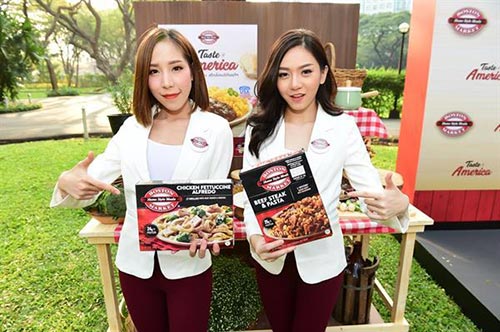 Bangkok–19 Jan–CPF
The U.S. Embassy in Thailand together with Charoen Pokphand Foods PLC (CPF) unveils "Boston Market"-labeled premium American frozen food in Thailand, enticing Thai consumers and American food enthusiasts to have a bite of the authentic products now available at 7-Eleven convenience stores and CP Fresh Mart.
H.E. Glyn T. Davies, US Ambassador to Thailand and Dhanin Chearavanont Sr., chairman of Charoen Pokphand Group, preside over the opening of the container stuffed with frozen food from the famous restaurant chain, Boston Market, at US Ambassador's Residence on Wireless Road, Bangkok. Available for the first time in Thailand are 4 top-hit menus; Salisbury Steak (Two Steak Patties in Gravy with Macaroni & Cheese), Beef Steak & Pasta (Seasoned Beef Steak in Mushroom Gravy over Pasta), Chicken Parmesan (Breaded White Meat Chicken & Spaghetti with Marinara Sauce & Mozzarella Cheese), and Chicken Fettuccine Alfredo (Grilled White Meat Chicken, Fettuccine & Broccoli in a Creamy Alfredo Sauce).
"Boston Market Home Style Meals are delicious and convenient. They are terrific American products that have just arrived in the Thai market. Available at 7-11 stores throughout the Kingdom, the Thai people can get this great food anytime, just next door to home or work. Enjoy!" said U.S. Ambassador Glyn Davies.
Mr. Boonchai Opas-iam-likit, US Business Chairman of CPG, noted that the "Boston Market" label has been popular in several U.S. states thanks to the unique characteristics and world-class production standards, being a right choice for the new-generation American food admirers. Boston Market is one of top brands of Bellisio Foods, now part of CPF's business in the United States.
"Under CPF's "Kitchen of the World" vision, the launch of this authentic American dishes not only offers a new food choice to Thai consumers but also serves as an exchange of food culture between the two countries. This will also pave way for food inventions for consumers in the future," Mr. Boonchai said.
Mr. Prasit Boondoungprasert, Chief Operating Officer -International Trade and Business Development of CPF, said that Boston Market marked the first American frozen products imported by CPF. Boston Market fits the new lifestyle of Thai consumers, foreigners, tourists and all in Thailand who are familiar with authentic American food.
He added that Boston Market products have been available at 7-Eleven and CP Fresh Mart in Bangkok since December 2017, at the per-pack price of Bt149-Bt155. In March, they will be available at leading supermarkets.
CPF also sees an opportunity to market these products in Asia which shows high economic growth potential.
Owned by Steven Kolow and Arthur Cores, Boston Market's first home-styled meals restaurant was opened in December 1984 in Newton, Massachusetts. The brand has quickly gained popularity and witnessed fast expansion thanks to the authentic tastes. In 1999, Bellisio, together with Boston Market restaurant, introduced home style frozen meals under Boston Market Brand which offers convenience and varieties of menus. Today, Boston Market Brand is widely available at over 20,000 leading supermarkets across the United States.
Invalid Domain Name