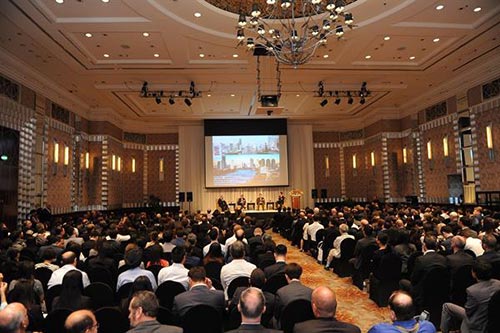 http://www.thailand4.com/.prop/2018-01-23/78f21d44c7838d55eacaa99a4e86a786/
Real Estate Press Releases Tuesday January 23, 2018 12:09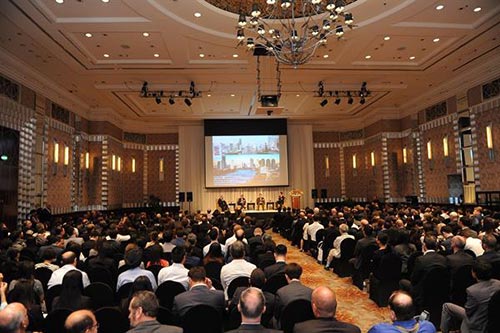 Bangkok–23 Jan–Delivering Asia Communications
Industry experts revealed at Thailand Tourism Forum (TTF) 2018 that Bangkok is on the cusp of emerging as the world's next Mega City. Within five years, the rapid expansion of Bangkok's Metro systems will succeed in opening up unprecedented spaces in the city and with it huge opportunities for the travel and tourism industry.
This has not been lost on one of Thailand's most prominent real estate developers, Sansiri PLC, who will bring one of the most dynamic New York hospitality brands to Bangkok – The Standard – in a major foray into hospitality as they seek to bring new cutting edge brands to the city.
Sansiri CEO Apichart Chutrakul gave the key note interview to open TTF 2018 on 'MEGACITY BANGKOK – A Tourism and Hotel Futurescape' to a packed ballroom of almost 700 travel industry delegates from Thailand and across the region at the InterContinental Bangkok.
In the opening remarks, TTF 2018 Co-Organiser and Managing Director of C9 Hotelworks said: "In five short years the electric metro across Greater Bangkok will reach a length of 464 kilometers. This will surpass London who stand at 402 km with their underground and New York City's subway which measures 380 km. The great promise of the East has now become the new West. Important will be the access to three international interconnected airports – Suvarnabhumi, Don Mueang and U-Tapao."
Global research firm STR's area director Asia Pacific Jesper Palmqvist added that Bangkok was on a strong growth trajectory in terms of hotel performance and infrastructure development would only support this further. "With almost three years of stable growth in terms of hotel performance, Bangkok has firmly put the 2014 decline far behind. By November 2017, RevPAR had grown 3.4% year-over-year, and this against a backdrop of some reasonable strong supply increase at 4.1%.
"The impressive numbers are held up by an ever stable demand growth of around 5% for 18 months after the comeback in 2015, but hotels have also been able to increase rates by more than 2% even with new competing product coming to market. But it's not just short-term – no less than seven of the months in 2017 saw 10-year records in absolute RevPAR performance – that's a sign of very strong growth during the past 10 years for the mega city."
In addition to Apichart Chutrakul, CEO of Sansiri PLC, speakers and panelists at TTF 2018 included Dillip Rajakarier, CEO of Minor Hotel Group; Supoj Chaiwatsirikul, Managing Director, ICONSIAM; Nikhom Jensiriratanakorn, Director of Horwath HTL; Thomas Schmelter, IHG's Director of Operations for Thailand & Indochina; Mike Batchelor, JLL's Managing Director, Investment Sales for Asia; Jesper Palmqvist, STR's Area Director for Asia Pacific; Thomas Schmelter, Director of Operations – Thailand & IndoChina, IHG Group; and many more.
Invalid Domain Name