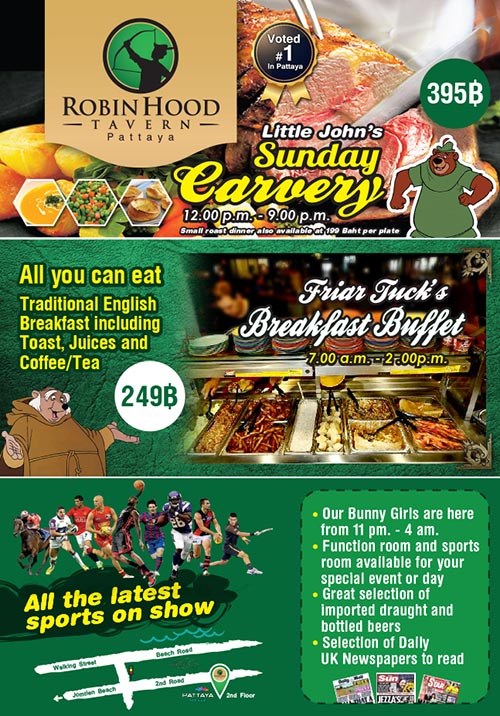 Now under new management, the Robin Hood Tavern – situated on the first floor of the Avenue Shopping Centre on Pattaya Second Road – is popular with sporting enthusiasts and families alike. As you would expect, there are big screen TV's everywhere to ensure you don't miss out on any sporting action. If your favourite sport is on in the early hours there's no need to worry, the Robin Hood Tavern is open until 4.00 am every day.
The Tavern has a capacity of 300 people with seating plentiful around the main floor and raised areas. There's a nice al-frescoarea outside for those who like to watch life go by and the smokers who can enjoy a cigarette at their table without having to get up and head for a smoking area.
Robin Hood offers a great choice of food to suit every taste from breakfast time to the small wee hours. The bar boasts an impressive selection of draught beers as well as a full selection of bottled beers, spirits, wine and imported craft beers.
There are Daily Food and Drink Specials which offer great value for money.
For those looking for a hearty meal to start the day, drop by for Friar Tuck's Traditional English Breakfast Buffet. Starting at 7 a.m. and continuing until 2 p.m., the range of food items includes all you would expect from an English breakfast together with toast, tea/coffee and juices – and all for just 249 Baht.
Little John's Sunday Carvery at the Robin Hood Tavern – voted Pattaya's number 1 Sunday carvery – with soup of the day, a selection of four imported roasts, fresh vegetables and imported potatoes, along with the dessert of the day is just 395 baht.
If you're not overly hungry, the Robin Hood Tavern offers a small roast dinner at 199 baht.
The team at Robin Hood have organized a real treat for football fans from 10:00pm on Saturday nights – 20 percent off everything including a free hog roast while it lasts.
The next time you're in Robin Hood ask for a Loyalty Card. It's worth over 2,000 baht and you get a stamp every time you spend 495 baht or more. Five stamps and you get a Free Breakfast Buffet; 10 stamps a Free Sunday Carvery; 15 stamps a Free Starter & Dessert; and 20 stamps a 1,000 Baht Voucher.
For expats, the Robin Hood Tavern have introduced a V.I.P. Card. This entitles the holder to 10% discount off food and drink and they've created a special treat for V.I.P. members on Mondays from 4 p.m. to 4 a.m. – 25 percent off everything (except their Daily Specials). The card is free.
Robin Hood Tavern, First Floor at The Avenue, Pattaya Second Road is open from 7 a.m. to 4 a.m. Free parking is available at the Avenue car park, but just remember to get your ticket stamped before returning to your car.