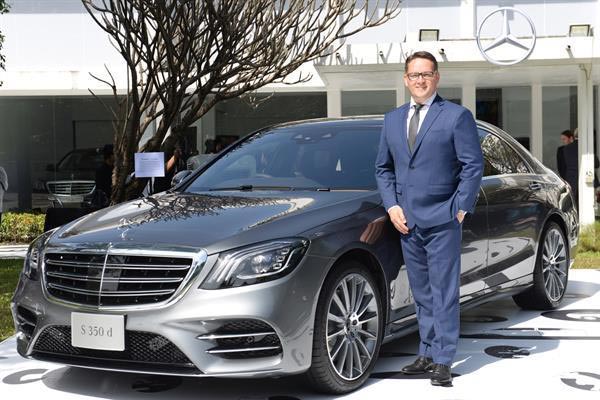 http://www.thailand4.com/.auto/2017-12-04/2fe9a6ce21180501f1c46007ec4e64bd/
Automotive Press Releases Monday December 4, 2017 11:31

Bangkok–4 Dec–Verve
Mercedes-Benz (Thailand) Limited reiterated its flagship premium position once again with the Thailand launch of two exceptional premium saloons. The new S-Class is highlighted as the predominance of elegance as it fulfils driving experiences of those who always lead with its flawless impressions through sense of luxury, class-leading design, fathomless comfort for every journey, and groundbreaking safety technologies. The Mercedes-Maybach S-Class, in addition, is a crown jewel of premium saloon as it offers uncompromised performance and class-leading innovations to incisive owners who seek the best in everything. The S 350 d AMG Premium is priced at 7.64 million baht while the Mercedes-Maybach S-Class is priced at 17.44 million baht. These ultimate flagship saloons presently await interested customers at 32 authorized distributors of Mercedes-Benz across Thailand.
Mr. Michael Grewe, President and CEO of Mercedes-Benz (Thailand) Limited, began: "In the previous years, the Mercedes-Benz S-Class has been recognized as one of the best-selling passenger vehicle models in various markets around the world. So far, around 4,000,000 units had been delivered to our customers since the inception of the S-Class and 300,000 of these were delivered from the year 2013 to present day. It is our flagship luxury passenger car family enhanced with our finest design language, impressive level of comfort, and forward-thinking vehicle engineering. Additionally, it stands through time as our benchmark for all future passenger cars. In short, the S-Class is a symbol we sculptured for men and women who never follow others—especially talented executives and ones who are enlivened with their own stories of success."
"To reaffirm our core axiom to offer only 'THE BEST' to customers today and tomorrow, we take pleasure on the road to a new level with the new S-Class. It retains 'The Best Saloon' label with a fine-tuned driving comfort, state-of-the-art innovations—including the advanced Driving Assistance package, and fuel economy. Furthermore, we would like to demonstrate our core brand values in Fascination and Perfection through the unveiling of the Mercedes-Maybach S-Class. This remarkable premium saloon is an ideal choice for top executives, the most distinctive fleet vehicle operators, as well as leading hotels with a wish of hospitality to outstandingly escort their respected guests to or from their grounds," Mr.Grewe added.
Mr. Frank Steinacher, Vice-President of Sales and Marketing of Mercedes-Benz (Thailand) Limited, continued: "In terms of specifications, the S 350 d AMG Premium is our superb and luxury saloon with an all-new six-cylinder, bi-turbo diesel engine tailored to maximize performance and responsiveness while significantly reduce emitted exhaust. The Mercedes-Maybach S 560 Premium, on the other hand, offers an exclusive experience in an outstanding, cutting-edge saloon body. It boasters comfort in every journey with first-class cabin amenities and assistance systems. In addition, the M 176 engine, with the inner-V turbochargers, is recognized as a 4.0 liter, V8 bi-turbo engine that can achieve peak torque at 700 Nm with low engine noise.
The inclusion of trailblazing innovations in these two flagship vehicles of Mercedes-Benz and Mercedes-Maybach—such as the Parking Pilot including Active Parking Assist for maneuvering into and out of both parallel and perpendicular parking space, Active Distance Assist DISTRONIC, and Evasive Steering Assist—can be counted as our major step towards autonomous driving," Mr.Steinacher concluded.