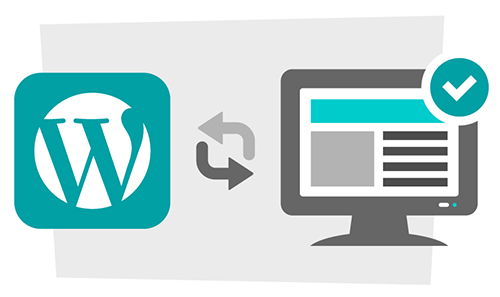 Anyone who is running an online business or has a website for their bricks and mortar business should carry out a regular 3 month audit to make sure that their website is in tip top condition.
If you have a wordpress website, this is made even easier for you with the abundance of themes, plugins and other useful tools available.
In the same way you get your car serviced regularly, you should also get your website serviced regularly. You can do this yourself or you can engage a company to do it for you, this is normally done on a maintenance contract where you pay the company a monthly retainer to keep your website up to date and running smoothly.
To keep things simple in this article, we will talk primarily about WordPress websites.
First of all, login to your WordPress website and check for updates, this includes updates to the core files of WordPress.
Important – before updating anything on your site, you MUST take a backup. Often your hosting provider will have backups of your site but you should check their procedure in the event of an issue. Some unscrupulous hosting providers will charge you anywhere up to $100 or more to restore your website in the event of a problem.
You can take a backup of your website using a WordPress plugin such as: Backup Buddy, Updraft Plus or Duplicator plugin.
Once you have taken a backup, you can update WordPress and check your site for any errors. Every time you make an update, you should check core functionality of add on's like your contact form.
Next, check your plugins. Out of date plugins can cause vulnerabilities in your site and make it easier to get hacked, which nobody wants! Update any plugins and also make sure that you are running a security plugin such as iThemes Security to protect your website from malware and hackers.
Now, check your theme for updates, if you are using a free theme from WordPress you can easily update this from the Themes area in the Appearance tab. If you are using a paid premium theme from a site such as Themeforest you should login to the site and download the theme directly to your computer. Change the name of the theme file and upload it to your WordPress site directly, this way it will not overwrite your current theme as it has a different name. If there was any issue with the updated theme you could easily switch back to the old theme and contact a professional to help you.
Keeping on top of your website updates is important for the general health of your website and an important part of online marketing, if you need help or advice with this you can contact Gemma by email – [email protected]