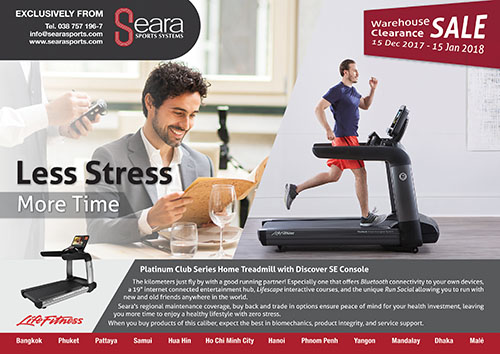 IDEAL HOME FITNESS SOLUTIONS TO SUIT EVERY SITUATION
As the end of the year rapidly approaches, SEARA Sports Systems will be holding their annual end of year sale. SEARA have for many years been well known for providing quality health and fitness equipment throughout the region for almost 25 years. This year SEARA will be reducing prices on not only their range of home fitness equipment, but also on a wide variety of demo and used commercial grade equipment that they currently have in stock. Some of the equipment on display in the showroom is also up for sale as the models are no longer produced and represent great value for money and as Andrew, the GM for the region mentioned, he is also re-arranging the Pattaya showroom and looking to clear some of the equipment to make way for a new and exciting display of functional fitness concepts. Andrew is always open to offers.
As fitness equipment is not a small investment, peace of mind is assured with SEARA's full warranty and after sales service. There is a dedicated fully trained service team based in Pattaya who are on call should anything go wrong. Spare parts are always kept on hand in the Pattaya showroom and should something not be available locally, an even larger range of spare parts are stocked in the new and enlarged Bangkok warehouse and easily transported to the Pattaya area. Maybe you already have fitness equipment in your house that hasn't been used for a while. SEARA's after sales service team are able to offer full service maintenance and even a restoration service to bring your tired machine back to full glory.
If you visit the showroom on the corner of Chaiyapruek 1 and Sukhumvit Road, you can discuss your needs with trained fitness consultants who will help you find exactly what you are looking for. Do you live in a condo? No problem, there is a range of equipment that is idea for smaller spaces. You can read our regular fitness article further into this month's edition of the Pattaya Business Supplement. SEARA are happy to talk with condominium juristic committees and during the end of year sale are happy to extend discounts to your condo block if you have a gym area.
Building a house? Why not talk to SEARA while you are in the planning stage and take advantage of their consulting services not only for fitness equipment but also sports flooring materials such as tennis courts, basketball and multi-use playing areas.