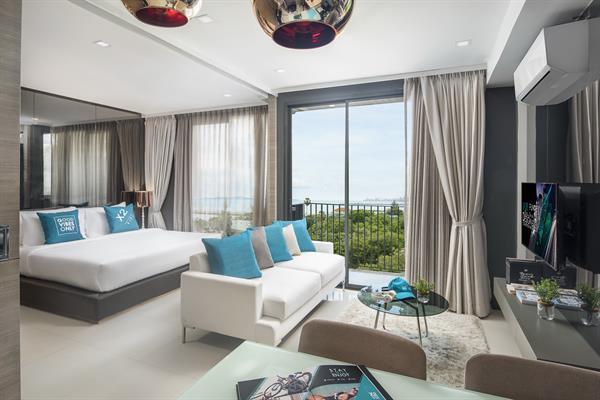 http://www.thailand4.com/.life/2017-10-19/9fe26fabe55eab08121f5a07d0e7122a/
Travel and Lifestyle Press Releases Thursday October 19, 2017 13:56

Bangkok–19 Oct–Delivering Asia Communications
X2 Vibe Pattaya Seaphere, the stylish millennial hotel on Thailand's idyllic Eastern Seaboard, is making waves in the industry for its award-winning architecture and design.
The contemporary seafront property, which occupies a stunning seafront spot in Na Jomtien, just a short drive from Pattaya, has won two major awards for its cutting-edge design and eye-catching architecture and is ready to welcome all guest to experience the new trendy vibe from November 1st, 2017 onwards.
Developed by the Habitat Group, one of Thailand's leading premium property developers, X2 Vibe Pattaya Seaphere won the "New Small Hotel Construction and Design for Thailand" award at the Asia Pacific Property Awards 2017-2018 and was highly-commended in the "Best Residential Interior Design" category at the Thailand Property Awards 2016.
These awards reflect the sharp, sleek design of X2 Vibe Pattaya Seaphere, which weaves edgy urban elements seamlessly into its natural surroundings. All aspects of the property are intended to be open to nature, with an open-plan layout and use of natural materials such as wood and stone. All rooms feature large floor-to-ceiling windows that allow natural light to flood in, while the elevated infinity pool appears to blend seamlessly into the azure sea beyond.
Chanin Vanijwongse, CEO of the Habitat Group, said he was delighted with the result of the project, which is perfect in tune with X2 Vibe's modern millennial concept. Guests at the hotel are typically young professionals aged between 25 and 40, who are seeking a fresh, fun approach to hospitality and design.
"X2 Vibe Pattaya Seaphere has made a major impact since it opened, not only among our guests but also in the world of architecture and design," said Khun Chanin. "We are extremely proud of the awards we have received, which are a great credit to everyone involved in the project – especially our partners at makeAscene and VV Desine.
"Our shared vision was to create a modern, sophisticate lifestyle experience in harmony with the natural seascape. The hotel's curved lines and freeform elements represent the ripples of the beach, while the ground floor reflective ponds and eighth floor infinity pool merge with the sea. The sleek interiors and high-tech amenities are also perfect for X2 Vibe's trend-setting millennial guests," he added.
With its award-winning design, idyllic location and cutting-edge amenities, X2 Vibe Pattaya Seaphere is developing a strong reputation within the industry, and is set to continue delighting millennial guests for many years to come.
Invalid Domain Name