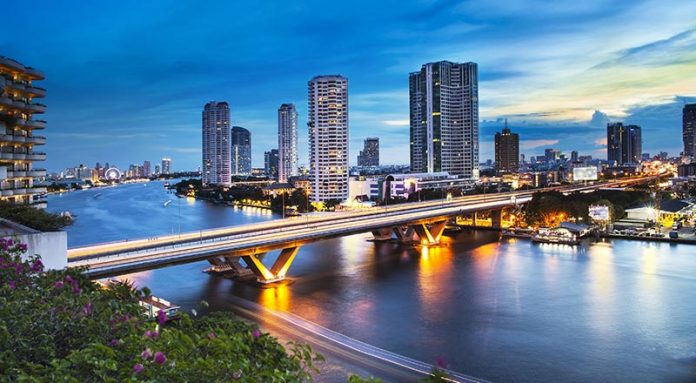 According to the managing director of Knight Frank Thailand, Phanom Kanjanathiemthao, the two areas surroundingthe Asok Road Junction with Phetburi Road and the Ratchadaphisek Road junction with Rama IXRoad in Bangkok will see significant growth and many changes due to anumber of large projects in the vicinity. As such residential property developments in the area are likely to benefit.
The Junction of Rama IX and Ratchadaphisek Road will become a new primary business district as new mixed retail, office and residential developments are launched including G-Land's The Grand Rama IX, which will be a multi-building development that will cover 73 rai of land.
The development will be home to the tallest building in Asia, dubbed, for now, the Super Tower, which will rise 615 metres from the ground, almost twice the height of the famous Bayoke Tower. It will consist of 125 floors and will be home to 320,000 square metres of mixed-use space. At the front of the Super Tower there will be a convention and exhibition centre sporting some 6,000 metres of space. Other buildings on the site will include the Bell Grand Rama IX residential project, The G Land Tower, The 9th Towers, and a luxury hotel.
Already, the Central Plaza Rama IX shopping centre has become a very popular retail space, sitting on the opposite side of Ratchadaphisek road from the Fortune Town Centre and the Grand Mercure Bangkok Fortune Hotel, with the Rama IX MRT train station straddling the space in between.
Just a short hop back is another hotspot as Asoke Road crosses Phetburi Road. The 120,000 square metre Singha Complex is situated here and new condos have been springing up around the crossroads including the 275,000 baht per metre Esse condominium. Other condos with price tags of over 200,000 baht per square metre include the Ashton Asoke-Rama 9, and the Q Asoke. This area is also home to the Airport Link station and the Makkasan complex, another multi-building mega project, covering some 50 Rai of land that will include a condominium development, a conference centre, office buildings, a hospital and an international school. A large 150 Rai Public park will also be developed close by.
The stretch of road where Asoke Road crosses Phetburi Road is a natural extension to the popular area that emanates from the downtown area where Asok Road crosses with Sukhumvit road. This is where the Asok BTS station lies along with the well-known Terminal 21 Shopping mall as well as a range of high end hotels and residential developments.
Because of the close proximity of the two areas it is likely that the Phetburi and Rama IX junctions will enjoy very strong positive growth in the near future.