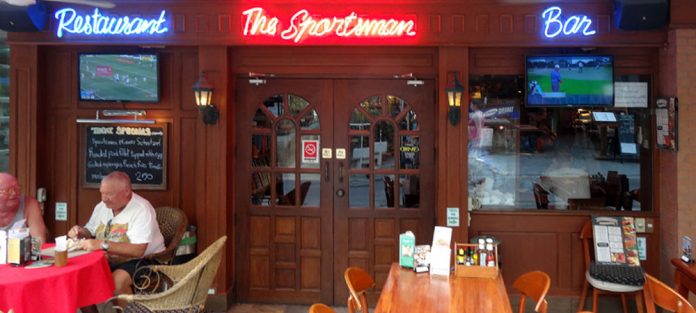 The Sportsman Pub and Restaurant, located on Soi 13, between Beach Road and Second Road, celebrated its 20th anniversary earlier this year and is one of the longest-running British-style bar-pub-restaurants in Pattaya.

Among the myriad of reasons for the Sportsman's long running success is food quality, generous portion sizes, staff attentiveness, hands-on management and ambience.
The Sportsman Pub and Restaurant is rated in the top 15 out of more than 900 restaurants in Pattaya by Trip Advisor, testament to its enduring resilience and consistency in a tough market.
Upcoming special events for The Sportsman include that major American holiday in November, Thanksgiving. The Sportsman may well be classified as a British pub, but its fare is sufficiently variable that it attracts diners from all corners of the globe. They will be having a Thanksgiving dinner of three courses, including traditional roast turkey, pumpkin pie and much more.
Christmas is approaching and The Sportsman has always been an incredibly popular place for this most traditional of feasts. Again, it will feature traditional turkey with all the trimmings and homemade Christmas pudding. Book early, as they do get extremely busy.
Always striving to be ahead of the rest the management has just introduced some very interesting new beverages including Chunky Monkey and Apple Pie shakes adding to their already large milkshake range. On the nutritious side wheat-grass & pineapple and carrot & orange have been added to their 'healthy options' menu.
There's also a new selection of ice teas to quench your thirst during those hot days and they now even offer a selection of tea and biscuits, very English.
As an incentive for the ladies, the Sportsman has introduced 'Ladies Night' every Friday where ladies can take advantage of The Sportsman's new cocktail menu with a buy one, get one free promotion from 6:00pm till close.
Other promotional days unique to The Sportsman include. Wednesday's special burger and chips, with a complimentary bottle of San Miguel for just 195 baht, available all day and all night.
On Fridays, the food special is an all-you-can-eat pizza, pasta and salad buffet, available between 6:00pm and 10:00pm, for just 249 baht per person.
On Sundays, what else would be fitting than an all-you-can-eat Sunday Carvery! This long running traditional carvery remains leanly priced at only 425 baht per person available between 12:30pm and 8:30pm. The Sportsman's Sunday Carvery is rated among the best in Pattaya. There are always two soups, five roast joints, a special steak and kidney pie, Yorkshire pudding, mini sausages with all the trimmings and a gravy and sauce selection to suit every taste, much more than most so keeping The Sportsman's Sunday Carvery the benchmark for others to follow.
Finally, and if that wasn't enough The Sportsman offers some very generous drink promotions.
Mondays special features pints of Heineken at only 99 baht, Tuesdays pints of Guinness at just 170 baht, Thursday's special is Tiger Draught pints at 99 baht and on Saturdays pints of Thatchers Gold draught cider at only 160 baht, all available all day, and all night.
Thursday sees The Sportsman weekly free-entry quiz starting from 9:00pm. There is a free (Bowmans) pie and chips for all contestants at the end of the quiz and a rollover jackpot question. Everyone is welcome, and you can either set up your own team or join in with another group.
As in its name, The Sportsman shows all major live sports including AFL, NFL, Premier League Football, Rugby, Golf, Formula One and Motor GP to name some, all shown on seven large wall-mounted screens and if watching sport isn't your thing, then you can always shoot some pool on the pubs centrally located pool table.
The Sportsman Pub and Restaurant truly is a cut above the rest, and with its own unique brand of daily promotions and specials will quite deservedly stay at the top of Pattayas highly competitive pub, bar and restaurant market.
You can visit The Sportsman on Facebook @TheSportsmanPattaya or visit their website www.sportsmanpub.com