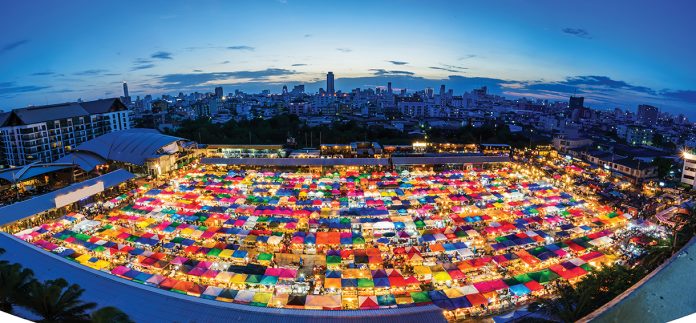 There are a number of second hand markets in Bangkok and these can offer some great finds at low prices. Whilst traditional street markets are very common in Bangkok, secondhand markets may lie a little further afield. Visiting a secondhand market in Bangkok can be an interesting experience, as you may never know what you might come across.
General second-hand markets sell anything from used clothes and shoes to electronic items such as mobile phones and computer equipment.
With the latter in mind, the Khlong Tom market, that used to be based in many of the small sois that run from the Corner of Worachak Road and Chao Kamrop Road, had been running every Saturday and Sunday and was a geeks paradise as it was a specialist electronics second hand market.
The market covered more than 20 sois in a grid like pattern and it was jam packed with shoppers and vendors alike. It was unofficially known as the flashlight market since, not only could you buy flashlights, but also you would need one to see all the other merchandise on offer due to the fact that it was not well lit in some places.
It seemed that anyone could camp down in the streets and open up a stall and start selling. However it has since been closed down due to the chaos that it caused to traffic and residents alike and many of the vendors have gone elsewhere.
One place where some of them headed to is the Pattavikorn market on Nawamin road between sois 70 and 72. This has a rich history as it used to be an outdoor market but is now largely undercover. The site has been developed over time and it now covers a large area.
There are some permanent stall holders in the central area and at the eastern end selling antiques, bric a brac, shoes, and electronic items such as digital cameras and hard to find memory cards. On the western end there is a relatively newly opened area where vendors can rent space. Typically these are not necessarily regular vendors but simply people having a clear out and so it is here that you maybe able to find some bargains.
Expect to see about 200 regular vendors in the main market and another 150 private vendors or so on the west side. The market is open daily from about 2pm until 8pm, with the weekends being the busiest time. You can reach Pattavikorn market from Sukhumvit road by taking a bus number 71 from Phra Khanong BTS and riding it to the terminus. Alternatively ask a taxi to go to the corner of Nawamin Road and Kaset-Nawamin Road and this will be very close to the site.
In the same area on the southern end of Kaset Nawamin road is another large market which comes alive at night and which has grown in size relatively recently. It is directly opposite "The Walk" shopping mall and is well lit and well organized. However due to its size you will likely need a good few hours to explore the entire market. On offer are shoes, bags, clothes, fashion items, electronics as well as some good Thai food.
Another market gaining popularity is the Train Night Market in Ratchada, which is located behind the Esplanade shopping mall, an unmissable landmark along that busy road. The market opens at 5pm and closes at 1am and so patrons and vendors alike can beat the daytime heat and enjoy the market until late. On offer are plenty of oddities and antiques, secondhand items and some vintage items. The market is also famous for its 3 food sois that serve up a great variety of fresh food and drink. The size of the market is such that it can be explored in about 1 or 2 hours. The market is open daily withe Friday and Saturday nights the busiest.
Rama 4 has a good market selling second hand clothes, fashion accessories, and shoes near to the Big C just south of the Khlong Toei junction. For these kinds of goods you will likely find that you can get a bargain and maybe even find something that is quite unique! It is open every day in the afternoons and evenings, with more vendors appearing at the weekends.