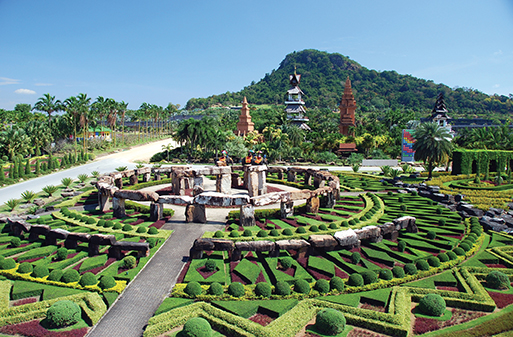 The internet-based travel company TripAdvisor recently released figures which showed Thailand had the greatest number of attractions in the Southeast Asian region as measured by traveller interest during the months of September and October last year.
Out of the top 15 attractions compiled by TripAdvisor, five were located inside Thailand. The figures were based on the percentage increase in search sessions during the period.
The five on the list in Thailand were Nong Nooch Tropical Botanical Gardens, near Pattaya, the Bua Thong waterfalls in Chiang Mai, the Cartoon Network Amazone water park at Jomtien Beach, Monkey Hill in Phuket and Krabi's weekend night market.
Indonesia and the Philippines each had four attractions on the list while Vietnam and Malaysia had one apiece.
TripAdvisor provided the following descriptions for the five Thai attractions and why they are attracting interest:
Nong Nooch: was voted as a Pattaya "must see" by TripAdvisor users. It has more than 20 themed gardens featuring European, Asian and North American plants and topiary.
Bua Thong waterfalls: Best known for its unusual, stair-like limestone face that can be climbed easily by children and adults alike, the Bua Thong waterfalls reward climbers with spectacular aerial views of the surrounding forest at the summit.
Cartoon Network Amazone water park: A hit with folks of all ages, the water park contains 10 entertainment zones, more than 30 water rides and the world's largest "aqua playground".
Monkey Hill: True to its name, visitors to Monkey Hill can expect macaques for company as they make their way up Phuket's highest peak.
Krabi Weekend Market: This is a foodie's delight, offering a wide variety of Thai curries, noodles, snacks and desserts, while souvenir hunters can also pick up local art and crafts at bargain prices.
According to TripAdvisor, outdoor markets and natural attractions are seeing an increase in interest in the website's Attractions Trend Index. The Sindhu Market in Sanur, Indonesia, took the Number One spot in the Southeast Asian region with a 242 percent year-on-year traffic increase.
Sindhu Market was followed by Nacpan Beach in El Nido, Philippines in second place, Nguyen Hue Street in Ho Chi Minh City in third position, the Pinto Art Museum in Antipolo City, Philippines in fourth and Nong Nooch Tropical Botanical Garden rounded out the top five attractions.
The Bua Thong waterfalls, Cartoon Network Amazone, Monkey Hill and Krabi Weekend Night Market took the sixth, eighth, ninth and tenth spots, respectively.